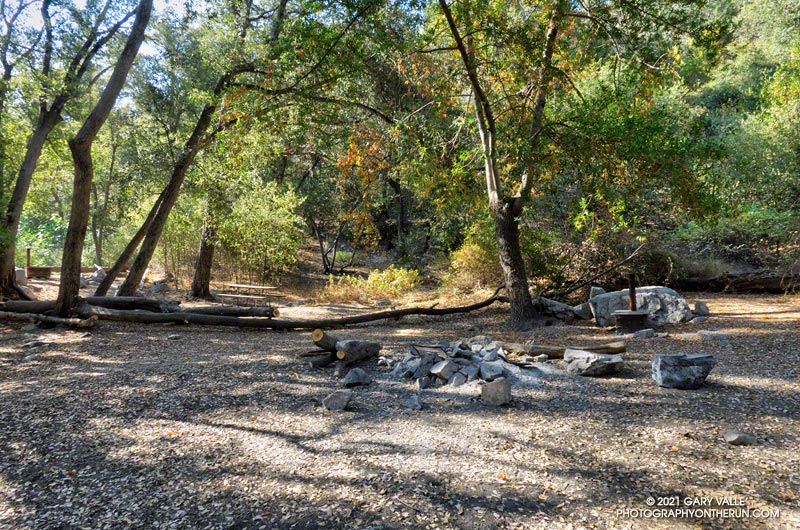 I'd decided to stay off the higher peaks because a combination of monsoon moisture and an upper level low was probably going to produce some thunderstorms in the high country. The action was forecast to stay east of of the Mt. Wilson area, but there was a chance there might be enough clouds to knock the temperature down a few degrees.
But a chance is just that, and the day dawned mostly clear and warm at Red Box. A few feathery high clouds had no effect on the sun, and as I jogged up Mt. Wilson road to the start of the Mt. Disappointment Trail, the temperature was already in the 80s.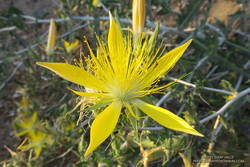 I was doing a 15-mile version of the Red Box – Bear Canyon loop. The main trails that make up this version of the loop are the Mt. Disappointment Trail, San Gabriel Peak Trail, Mt. Lowe Fire Road, Upper Bear Canyon Trail, Bear Canyon Trail, and the Gabrielino Trail. Refer to a trail map for additional details.
As it turned out, the Bear Canyon Trail was in the best condition I've seen in years. Thank you Bear Canyon Trail Crew! While still rustic, the trail between the old cabin site and the trail camp was a bit more worn than usual, and a little easier to follow. In some years it can be much more difficult to navigate.
No one was camped at Bear Canyon Trail Camp. The condition of the creek was similar to 2018. There were a few small pools here and there, but almost no surface flow. In addition, strict fire restrictions are currently in effect. See Forest Order No. 05-01-21-04.
The dry conditions had one benefit — I didn't have any issues with stinging nettle. There was still plenty of poison oak, but it was drying out and turning red. For the most part the poison oak could be avoided.
The Gabrielino Trail between Switzer Falls and Switzer's Picnic area was as busy as usual, including one hiker walking their cat!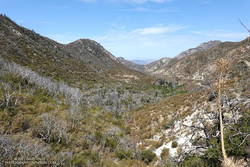 As I worked up the Gabrielino Trail above Switzer's, I kept looking for those monsoon clouds. Temps in the sun on the exposed trail was in the high 90s, and it was a relief to finally get to the more shaded sections near Red Box.
Here's an interactive, 3D terrain view of my GPS track of the Red Box – Bear Canyon – Switzer's Loop. The map can be zoomed, tilted, rotated, and panned. To change the view, use the control on the upper right side of the screen. Track and placename locations are approximate and subject to errors.
Note: Heavy rain can produce flash flooding and debris flows in Bear Canyon and Arroyo Seco.
Some related posts: After the Station Fire: Back to Bear Canyon, Red Box – Bear Canyon Loop Plus Brown Mountain, Bear Canyon Loop Plus Strawberry Peak