As I worked up the Bulldog climb on this morning's run, I started to reminisce about the original Bulldog 50K course. When I reached the top, instead of making the usual turn to the left on Castro Peak Mtwy, I turned right, toward Castro Peak.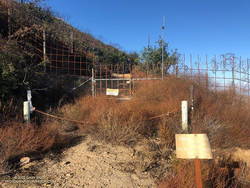 Prior to 2004, this was the route of the Bulldog 50K. Back then, the 50K course worked over the shoulder of Castro Peak to the top of Upper Solstice Canyon, and then followed the Backbone Trail back to the top of Corral Canyon. The course had to be changed when the landowner closed a short stretch of dirt road on Castro Peak.
Today, I ran a bit more than a half-mile before reaching the razor and barbed-wire-laced barrier blocking the road. Then it was back to running the Bulldog – Phantom Loop combo and enjoying the spectacular Fall day.
Some related posts: Sean O'Brien 50K Training Run, Bulldog Training Run 2022, Bulldog Loop Plus the Phantom Loop