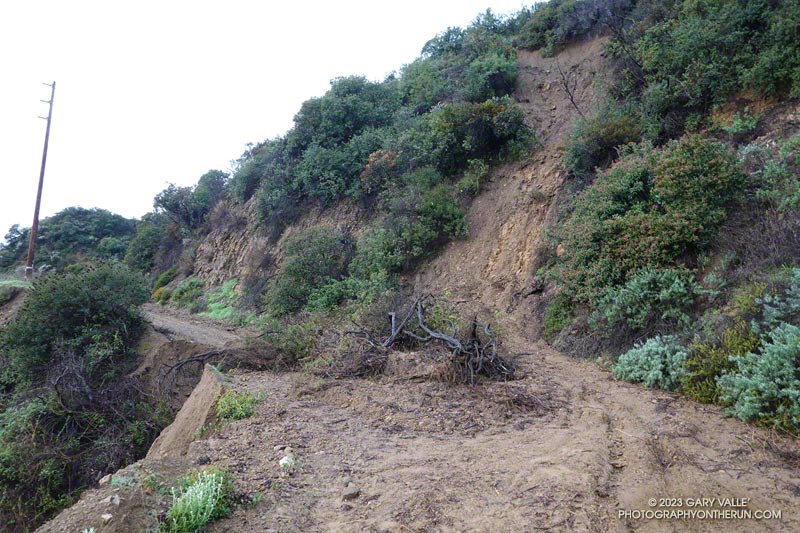 Several popular trails and fire roads in Topanga State Park have been damaged by the cumulative effects of Winter 2022-2023 rainstorms.
Since December 1, 2022, the Topanga Remote Automated Weather Station (RAWS) has recorded nearly 16 inches of rain. The most rainfall occurred January 9-10, when about 5.4 inches was measured.
On Sunday, January 15, I did an exploratory trail run from the Top of Reseda that took me through some popular areas of the Park. This included Fire Road #30, the Hub, Temescal Peak, Temescal Lookout, Temescal Ridge Fire Road, Eagle Springs Fire Road, Eagle Rock Fire Road, the Garapito Trail, and the Bent Arrow Trail.
There were numerous mudslides on the fire roads. The larger slides were on Fire Road #30 below the Hub and Temescal Ridge Fire Road between the Backbone Trail junction and Temescal Lookout. There was also significant roadbed and shoulder erosion in places. At the time, all were passable on foot.
The trails were a different matter. Unfortunately, much of the repair work done on the Bent Arrow Trail following last year's rain was damaged or destroyed.
The Garapito Trail was blocked in two places on the upper part of the trail. One problem was from a sluff of soil and brush sliding onto the trail. The other was from the collapse of a section of trail. There were additional sluffs, limbs, and washouts on the trail that were passable at the time.
Update February 5, 2023.  The Bent Arrow Trail is closed. Fire Road #30, Eagle Springs Fire Road, and East Topanga Fire Road to Parker Mesa Overlook had all been cleared. The Musch Trail was eroded in spots but OK. Use of the Garapito Trail has moderated its condition. Some brush had been cleared and paths have evolved through the sections of collapsed trail. Extra care is required in some spots.
Here are a few photos taken along the way.
Other trails and fire roads in Topanga State Park likely had similar impacts. I would expect, like last year, sections of the Santa Ynez Trail lower in the canyon to be washed out.
Related post: Trippet Ranch Loop Plus the Santa Ynez Trail