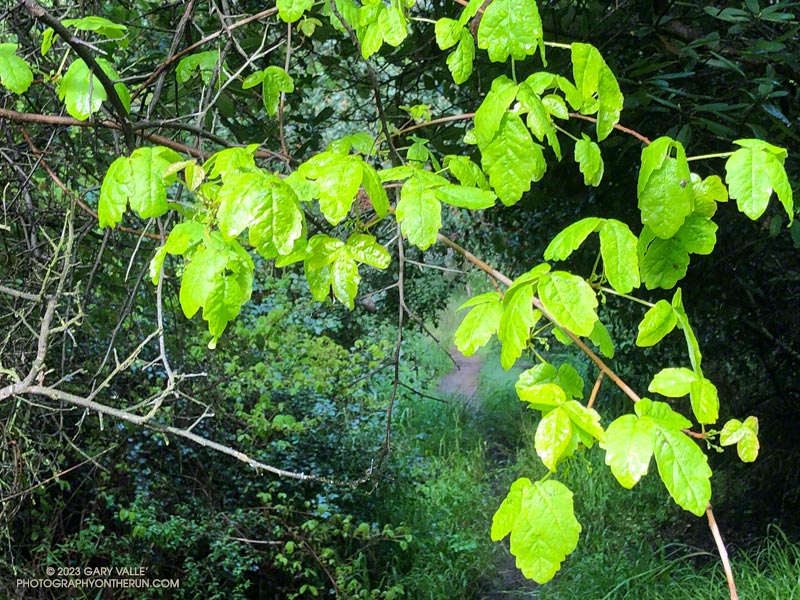 When one of the runners coming down the Rogers Road segment of the Backbone Trail saw me coming up the trail, he commented, "At least now we know the trail goes through!"
He was only half-joking. With all the wet weather, trails may not only be wet and muddy but might be flooded, severely eroded, blocked by trees and debris, or destroyed by runoff, mudslides, or slope failures.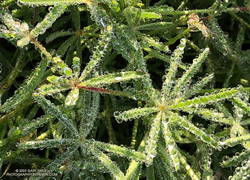 It had rained the previous two days, and more rain was forecast in a day or two. I was on this stretch of the Backbone Trail because I wanted to check out a use trail near High Point (Goat Peak) in the Santa Monica Mountains. I could do that by slightly modifying the route described in "Racing the Weather to High Point (Goat Peak) and Back."
Two use trails connect to the High Point trail near High Point. Both are on the east side of the ridge. When traveling northbound from High Point, the first trail encountered is the "Rivas Ridge Trail." Its junction with the High Point trail is on a hilltop, a bit more than a tenth of a mile north of High Point. The junction with the other trail — aptly named the "Great Escape" — is about a tenth of a mile north of the Rivas Ridge trail junction and a quarter-mile north of High Point.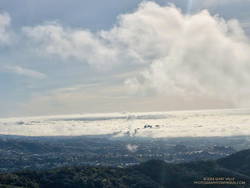 Instead of doing the run as a pure out and back, on the way back, I took the Great Escape down to the Backbone Trail. This short use trail connects to the Backbone Trail about 0.4 mile south of "The Oak Tree." It was an interesting trail to explore and only added about a third of a mile to the regular out-and-back route.
To show this variation, I've updated the interactive, 3D terrain view of the High Point (Goat Peak) Out and Back from the Top of Reseda.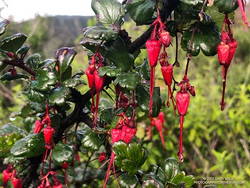 The condition of the Backbone Trail between Fire Road #30 and The Oak Tree was about what you would expect during such an active rain season. There were a few slimy, slippery spots and some eroded stretches of trail. My shoes and socks were already soaked from the wet grass along the trail by the time I reached The Mud Puddle. This was good because I didn't waste any time looking for a way around the flooded section of trail — I just waded right in. Nearby, a short section of trail had collapsed in a slide, but there was enough of a shoulder to easily go around it.
With the wet rain season, everything is growing like crazy. This includes poison oak, which was already dangling into the trail in several places. More wildflowers were beginning to bloom. This scarlet-red Fuchsia-flowered gooseberry was blooming along the Backbone Trail near its junction with the High Point Trail.
Some related posts: Racing the Weather to High Point (Goat Peak) and Back, High Point (Goat Peak) Via the Rivas Ridge Use Trail, Goat Peak and the High Point Trail