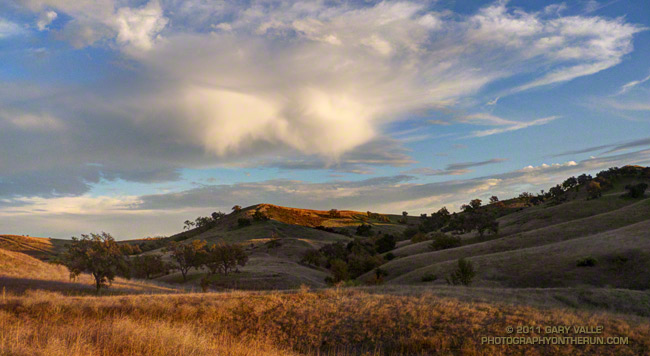 Spotted these unusual clouds while running in Upper Las Virgenes Canyon Open Space Preserve today. Better known as Ahmanson Ranch, the open space area is on the western margin of the San Fernando Valley, northwest of Los Angeles.
The clouds were strikingly similar to clouds I'd photographed last January following the development and dissipation of a band of mid-level mammatus clouds over the San Fernando Valley. As before, the clouds were round-bottomed and were ragged with virga.
Upper air charts and model analyses indicated the clouds were at an altitude of about 20K-25K, and were associated with a very small scale upper level disturbance.
Here's a wider view of the clouds.
Related post: Mammatus Clouds Over the San Fernando Valley, More posts…