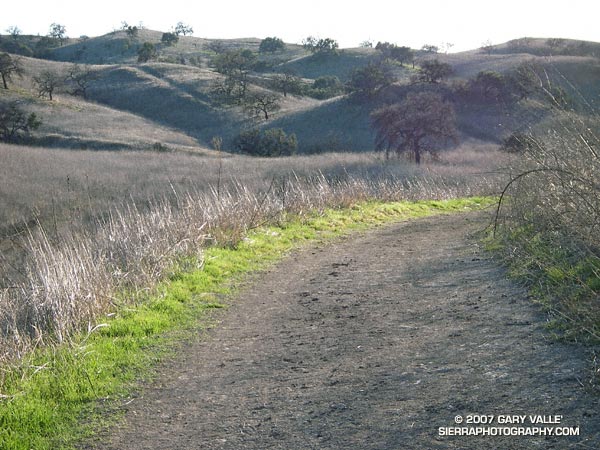 Sporadic rain in the Los Angeles area has finally produced a little green in local open space areas. Here, along the margins of the "main drag" in Upper Las Virgenes Canyon Open Space Preserve (formerly Ahmanson Ranch).
As of today, (preliminary) NWS climate data indicates Downtown Los Angeles (USC) has recorded 1.92 inches of rain since July 1. This is 7.31 inches below normal. Leafing back through weather service data prior to July 1, this is the total rainfall recorded since May 22, 2006 – a period of nearly nine months.
What happened to our El Nino rains? According to NWS scientist Ed Berry, "the global circulation has been generally La-Nina like since about late November." This is despite an El Nino event that peaked in November or December, and persisted at moderate strength into January. See his blog Atmospheric Insights for the technical details.
A period of unsettled – possibly showery – weather is forecast for the Los Angeles area beginning Sunday evening and continuing pretty much through the week. At the moment* the best chance for measurable rain appears to be on Monday and Thursday. We'll see!
*Updated Saturday, February 17, at about 11:00 a.m.
Related posts: The Color of Rain, El Nino Drought, Sunset Snow Shower, Rainy Morning on Rocky Peak Road.