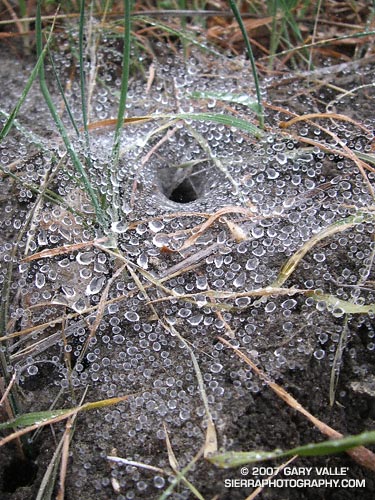 We received a little rain in the Los Angeles area earlier this week. There was just enough light rain to dampen my shirt, muddy my running shoes, and ornament this web with droplets of water. Refreshing as it was, the precipitation did little to relieve our ongoing drought.
To date, according to NWS data,  this is the driest water year in Los Angeles since recordkeeping began in 1877. From July 1, 2006 to March 22, 2007 Downtown Los Angeles (USC) has recorded only 2.47 inches of rain. This is 10.79 inches below normal. Checking back through NWS records, 2.47 inches is the total amount of rain recorded in Downtown Los Angeles from May 23, 2006 through today — a period of 10 months!
In the past few years Los Angeles has experienced a number of weather extremes. The driest water year on record for Los Angeles was just set in 2001-2002, when 4.42 inches were recorded. Then in 2004-2005, Los Angeles was deluged with 37.25 inches of rain — the second wettest on record. During that period, Opids Camp in the San Gabriel Mountains recorded over 100 inches of precipitation! In July of last year Pierce College in Woodland Hills recorded a new all time high temperature for that station of 119°F. This may have been the highest temperature ever recorded in Los Angeles County. In mid January of this year many new record low temperatures for the date were set in the Southern California area. Pierce College plunged to a record low of 20°F (-6.7°C) and a temperature of 10.4°F (-12°C) was recorded at a research site in the Santa Monica Mountains. 
Computer models are indicating another chance of rain early next week. At the moment, the system looks like it could produce rainfall amounts similar to Tuesday's system, perhaps a little more. But with the equatorial Pacific and atmosphere looking more and more La Nina like, significant rain is looking less likely, and we may be talking about record drought in Southern California for many months to come.  We'll see!
The photo of the wet spider web was taken near Lasky Mesa in Upper Las Virgenes Canyon Open Space Preserve (formerly Ahmanson Ranch) on Tuesday, March 20, 2007. The funnel shaped web is probably that of the western grass spider, Agelenopsis aperta.
Related posts: Chaparral Freeze, The Color of Rain, El Nino Drought, Sunset Snow Shower, Rainy Morning on Rocky Peak Road.