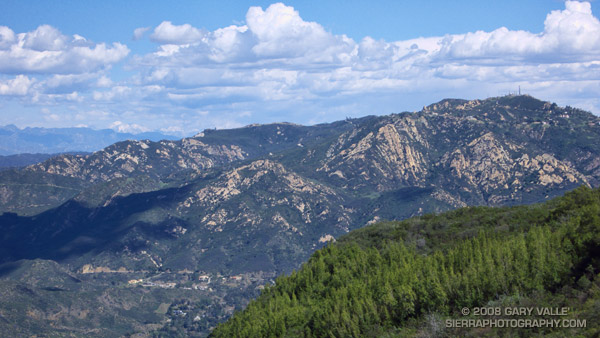 The beauty and intensity of the day was infectious. Hours before a cold low pressure trough digging down from the Pacific Northwest had carried showers, thunder, hail, and chilly temps into Southern California. Its rainfall had refreshed the greens of the hills, and accentuated the yellows, purples and reds of the wildflowers along the trail. Its blustery winds had cleansed the sky.
A few minutes before I had completed one run, and now was starting another. I wasn't certain how much farther I would run — I just knew I had to run.
The day had begun with friends on the Secret Trail in Calabasas. We had run up and over the shoulder of Calabasas Peak, and then ascended Saddle Peak via the Stunt High Trail and Backbone Trail. The view from the summit of Saddle Peak had extended beyond Santa Monica Bay and Palos Verdes Peninsula to the South Bay and Saddleback Mountain. New snow glistened on Mt. Baldy, and to the west the rocky summits on Boney Mountain stood in bold relief.
That 14.5 mile run had ended at Tapia Park. Now I was on the Tapia Spur Trail on the first climb of the Bulldog Loop. On the wind sheltered slope the bright yellow blossoms of tree poppy had begun to unfurl, absorbing the warmth of the midday sun. Distant peaks loomed to within an arm's reach, and my legs seemed to draw energy directly from the trail. It was a long run kind of day.
Notes: The title photograph is of Saddle Peak from the Backbone Trail, in the Santa Monica Mountains, near Los Angeles. Mt. Baldy can be seen in the distance. The combined length of the runs was about 29 miles with an elevation gain of about 5000 ft.
Some related posts: Tapia Bound, Bulldog Loop and the Corral Fire, Fog Along Malibu Creek