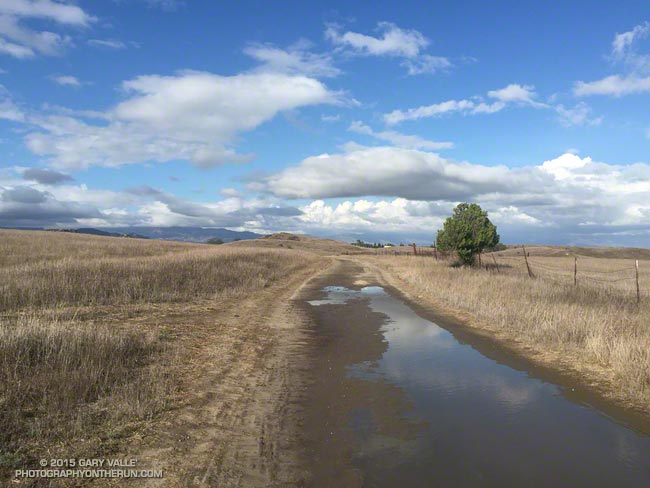 Ahmanson Ranch gets notoriously muddy when it rains, but it is exceptionally rare for it to rain enough in the Summer to do a run in the mud. Due in part to a warm Pacific, El Nino and a little boost from the Madden-Julian Oscillation in early July, it's been a record two mud run Summer at Ahmanson Ranch!
The first mud run day was on July 18, when the Cheeseboro RAWS recorded 1.32 inches of rain. That day I ran in the San Gabriels, where the main issue was thunderstorms.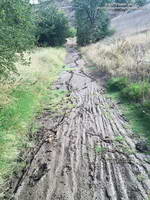 Tuesday (September 15) was a different story. It rained hard overnight — more than three-quarters of an inch — and in the afternoon I did one of my standard weekday loops from the Victory Blvd. trailhead — out East Las Virgenes Canyon, through Las Virgenes Canyon, and up the Beast to Lasky Mesa. It felt more like November than September. After running through a particularly muddy section in Las Virgenes Canyon, heavy plates of mud had built-up on my shoes. Normally I would curse, but on this run I just laughed. It was great to be out in the wet and muck.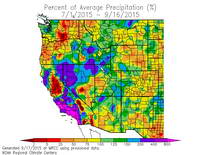 Both days set rainfall records at Downtown Los Angeles (USC). July 18 was the wettest day in July and July 2015 the wettest July since recordkeeping began in 1877. September 15 set a new rainfall record for the date and was the second wettest day in September on record. To date, September 2015 is the third wettest September on record. The rain year (July 1 to June 30) is off to a great start in Southern California and the 2015 El Nino has continued to strengthen.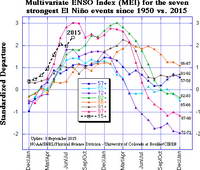 Based on the July-August Multivariate ENSO Index (MEI), for the time of year the 2015 El Nino is one of the three strongest El Ninos since 1950. A survey of dynamical and statistical ENSO models by the IRI & CPC suggests continued warming in the central equatorial Pacific with a peak of the temperature anomaly in the Nino 3.4 region in the OND or NDJ season.
The 2015 El Nino is being compared to the "Super" El Ninos of 1997-98, 1982-83 and 1972-73. It's too early to tell how the 2015 event will stack up against 1997-98 and 1982-83, but it already has exceeded the strength of the 1972-73 event. How might a Super El Nino affect Southern California rainfall? Historically, they have produced some of the wettest rain years on record. Downtown Los Angeles (USC) recorded 31.01 inches of rain in 1997-98 and 31.25 inches in 1982-83.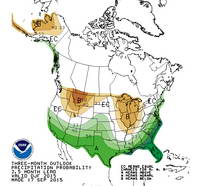 The climate context is different than it was decades ago, but very strong El Ninos are different beasts and rev up the atmosphere in a way that dominates global weather. Assuming the 2015 El Nino maintains (or increases) its strength into November or December, it should produce above average precipitation in Southern California this rain season, and perhaps result in an above average rain year for the southern half of the state. This is reflected in the Climate Prediction Center's latest round of 3-Month Seasonal Precipitation Outlooks, including the Winter outlook for December, January & February 2015-16. We'll see!
Related post: July Deluge a Preview of Southern California's Upcoming Rain Season?