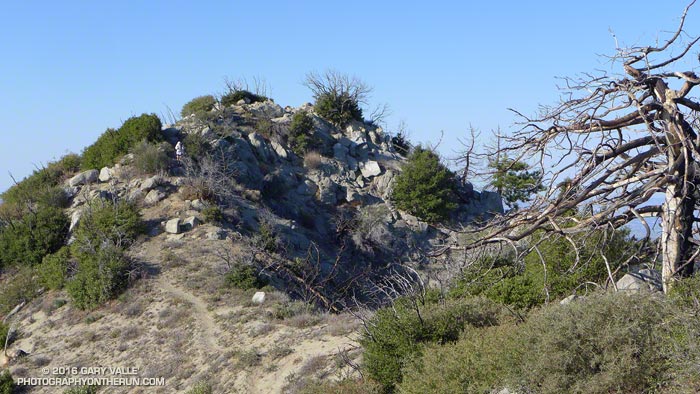 Did the Colby Canyon – Strawberry Peak – Red Box loop again over the Thanksgiving holidays. While taking some photos near Strawberry's summit I was struck by the regrowth that has occurred since the 2009 Station Fire. What caught my eye were the bare limbs of the old growth, burned in the fire, projecting from the new, dense, green growth.
The growth of the chaparral over the seven years since the fire does not appear to have been noticeably impaired by the 2011-2015 drought in Southern California. (In the photograph above note the height of the regrowth compared to my friend near the summit.)
This conclusion is based in part on the observation of chaparral regrowth following other fires, such as the 2005 Topanga Fire, but is also supported by comparing the amount of new growth to the pre-Station Fire growth. This can be inferred by the length of the burned limbs and the approximate age of the chaparral when burned by the Station Fire.
According to the FRAP California geodatabase of fire perimeters, the last fire to burn the summit of Strawberry Peak was the 1979 Sage Fire, which burned approximately 30,000 acres. Before that you have to go back to 1896 to find another fire in the database that burned Strawberry's summit.
In the absence of fire, it appears that in another 23 years the chaparral in the title photo could reach a similar height and extent to the old growth.