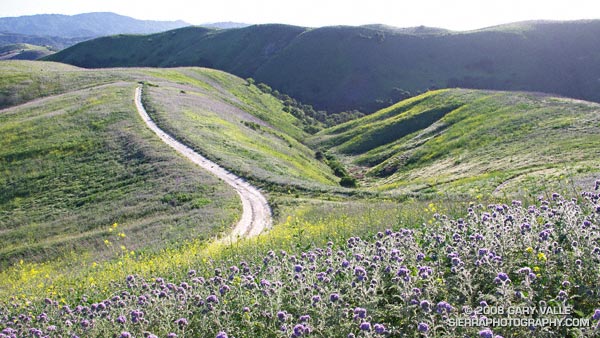 The Cheeseboro Ridge keyhole loop is a slightly shorter variation of the Ahmanson – Cheeseboro Canyon keyhole loop described in the post Classic Cheeseboro Canyon. Since it ascends the Cheeseboro Ridge Trail, instead of descending Cheeseboro Canyon, the ridge route has a bit more elevation gain.
Cheeseboro Ridge separates Las Virgenes Canyon and Cheeseboro Canyon and on a clear day the views are outstanding. Running the ridge is particularly enjoyable in the Spring when temps are cool and the hills are green. In the heat of summer, the surface of the road develops a powder-like layer of silty dust and the experience isn't nearly so pleasant.
If starting at the Victory Trailhead of Upper Las Virgenes Canyon Open Space Preserve, the length of the run is about 12.75 miles with an elevation gain and loss of about 1600 ft. Here are a Google Earth image and Google Earth KMZ file of a GPS trace of the route, and links to trail maps for Upper Las Virgenes Canyon Open Space Preserve and Cheeseboro/Palo Comado Canyons.