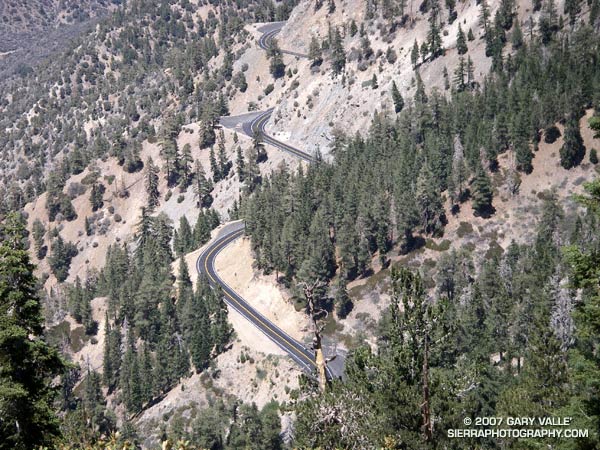 Update May 21, 2009. CalTrans Highway Conditions in California reports Hwy 2 "IS REOPENED FROM ISLIP SADDLE TO 5 MI WEST OF BIG PINES (LOS ANGELES CO) AT 1200 HRS ON 5/20/09."
Angeles Crest Highway has been closed from Islip Saddle to Vincent Gap since 2005 when runoff, rock slides and avalanches from Winter storms damaged the road.
This section of road is being repaired as part of the larger Angeles Crest Highway (SR-2) Pavement Replacement Project.
Glimpses of the highway from the PCT suggest that much of the closed section has been repaired, resurfaced and re-striped.
The photograph of SR-2 is from Sunday's Vincent Gap – Little Jimmy Spring Out & Back run.
Related post: PCT Above Windy Gap