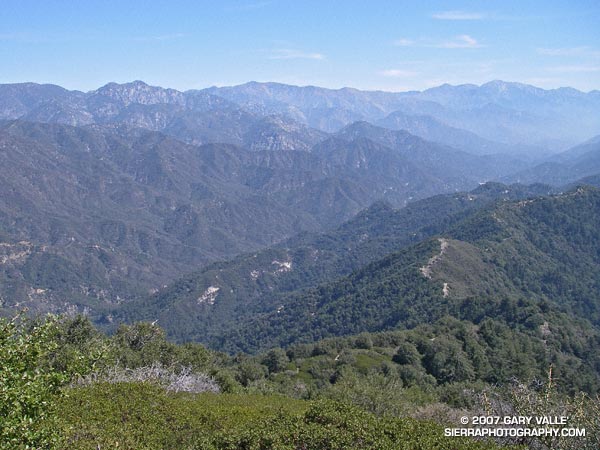 Of all the faces of Los Angeles perhaps the least well known is the Angeles High Country. Entirely within the County of Los Angeles, the lofty peaks and chiseled canyons extend from Mt. Waterman on the west to 10,064′ Mt. Baldy on the east. It is rugged and wild — the home of ancient trees, bighorn sheep, black bears and mountain lions.
This view of the crest is from the Rim Trail, on the steep eastern shoulder of Mt. Wilson. From left to right the prominent peaks are Mt. Waterman (8,038′), Twin Peaks (7761′), Mt. Baden-Powell (9,399′), and Mt. Baldy (10,064′). The lack of snow is indicative of the meager amount of precipitation we've had this Winter.
We were running the Rim Trail as part of an approximately 22-mile loop from Shortcut Saddle on Angeles Crest Highway to Mt. Wilson and back. The loop incorporates several segments of the new 50-mile course that is part of the Angeles National Forest Trail Race (formerly Mt. Disappointment).
The segments of the loop that are on the 50-mile course are the Silver Moccasin Trail, Gabrielino Trail, Kenyon DeVore Trail, and the Rincon-Edison Road. Here are a Google Earth image and Google Earth KMZ file of a GPS trace of the route.
Much of the winding 5.6 mile climb out from the W.F. San Gabriel River on the Rincon-Edison Road is steep and shadeless. Rincon-Edison Road is also used (under permit) by off-road vehicles — we encountered two dirt bikes and a jeep.