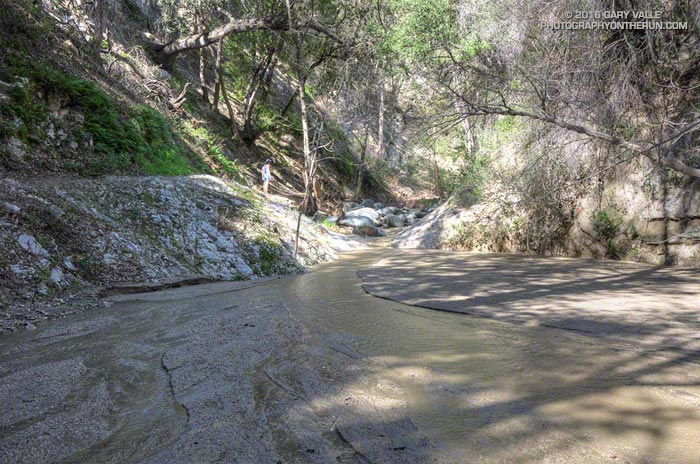 Since kayaking Arroyo Seco with Gary Gunder during the 1997-1998 El Nino, I've enjoyed revisiting the many drops and falls along Arroyo Seco when running in the area.
When we did the Bear Canyon loop a couple of weeks ago, I was amazed to see many of Arroyo Seco's stream features were nearly filled in with sediment. This image comparison shows a drop below Switzer Falls in March 2012 and in March 2016.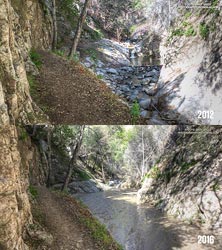 Doing a little sleuthing using Yelp reviews of Switzer Falls, it looks like the creek had low sediment levels in early January 2014, but was heavily silted in mid-March 2014. Based on this, it appears that the initial sedimentation event occurred during the  storms of February 26 – March 2, 2014, when nearby Opids Camp recorded 10.95 inches of rain.
The origin of the 2009 Station Fire was in the Arroyo Seco watershed and it was one of the most severely impacted. A question that comes to mind is why did the Arroyo Seco drainage produce such a high rate of stream sedimentation in the February-March 2014 rain event, but not in the very high flows of February 2010 and December 2010, and the moderately high flows of March 2011?
Some of the factors likely include vegetative cover, rainfall rate, recent rainfall history, the soil's hydrophobicity, the soil support provided by degrading root systems, the magnitude of the peak flow and the shape of the stream discharge curve. Our multi-year drought has been an amplifying factor, further reducing vegetative cover and soil support.
For more information regarding the history of the Arroyo Seco watershed and plans for its rehabilitation see the Arroyo Seco Foundation web site.