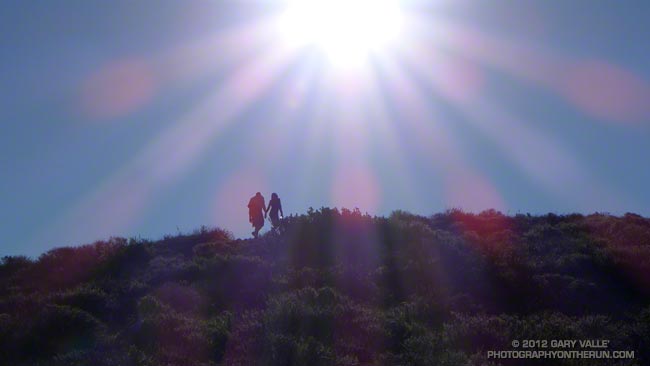 The difference in temperature from the bottom of Sycamore Canyon to the top of the Wood Canyon Vista Trail had to be at least 30 degrees. Down on the Sycamore Canyon Fire Road the mud and mud puddles were frozen and I could feel the cold through my sleeves, shirts and gloves. In the sun near Overlook Fire Road it felt like it was a toasty 60-something degrees.
Trying to get in some less hilly miles, Craig and I were doing the run from the Wendy Drive trailhead to Mugu Peak. There would be no personal bests today. We both had long races coming up and this run would be combined with another (shorter) run tomorrow.
It's tough to find a 20+ mile trail run in the Los Angeles area that doesn't have much elevation gain. Wendy Drive to Mugu Peak has about 2700′ of gain. Bypassing the peak would reduce the total to around 2300′. One flatter option in this area might be Wendy Drive to PCH and back with a mile or so side trip up Wood Canyon.
Some related posts: Wendy Drive – Mugu Peak Challenge, Serrano Valley from Wendy Drive, Serrano Valley – La Jolla Valley Scenic Loop