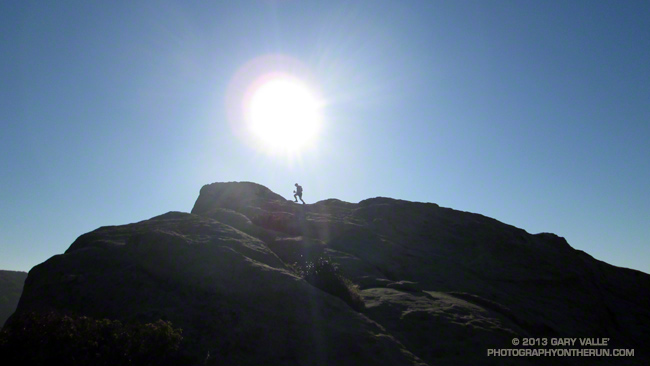 Joey "Threw it on the Ground" Morrison, who whole-heartily embraced the spirit of the Backbone games, was momentarily transformed into the iconic coyote runner while on the top of Eagle Rock.
The Coyote Backbone Trail Ultra was a phenomenal experience and a fantastic running event. The work required to pull it off is beyond comprehension. Many thanks to Chris Scott, Howard Cohen, Mike Epler, Gretchen Garrnet, Manley Klassen and everyone that helped make it happen — especially Lynette Brody (California State Parks) and Catharine Beverly Bishop (NPS). Also a BIG thanks to the aid station personnel, the safety crews, the EMTs, the communications staff, the trail sweeps and the huge number of volunteers that contributed to the event. The runners that I met along the way were exceptional people as well as superb athletes. I feel fortunate to have participated.
Here's a link to a slideshow — mostly from the first half of the run. The slideshow is best viewed on desktop/laptop that supports Flash, but can also be viewed on an iPhone/iPad.
After Kanan I had to focus on getting from one aid station to the next, and finishing the run!
Here's a Google Earth flyover of the Backbone Trail run from my GPS track. It will play on most desktop/laptop browsers using the Google Earth plugin. If the placemark labels don't display or disappear, pause the flyover and then press play to resume the flyover. You can start/stop the flyover at any point and use the Google Earth controls to zoom, pan and tilt the view. The time of day is displayed on the upper left.