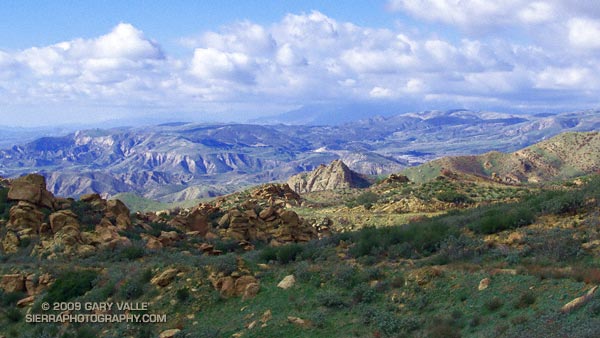 Because of a scheduling conflict, two friends weren't going to be able to enter a challenging new Southern California trail race — the Bandit 30K/14K — so today we previewed the 30K course.
The race starts in Corriganville Park in Simi Valley, and incorporates several of my favorite local trails in Rocky Peak Park. With an elevation gain in excess of 3200 ft., and varied terrain, the race promises to be a memorable test of trail running skill and endurance. A plus is that it is being run in March, when the hills are green; there is water in the creek crossings; and wildflowers along the trails.
So how was the 30K course? In a few words — strenuous, scenic and technical — and more difficult than either the Boney Mountain 21K or Bulldog 22K. Get all the details at BanditTrailRun.com.
Update 12/09/10. The date of the 2011 Bandit 15K/30K is Sunday, February 20th. A 50K distance has been added! Here's a Google Earth flyover of the Bandit 30K course, created from a GPS trace of the 2010 race.
Related post: Bandit 30K 2009