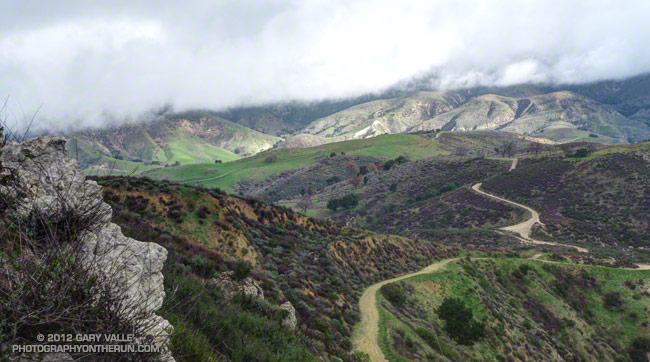 February is a busy month for SoCal trail runners. The Ray Miller 50/50 is Saturday, February 2; the Bandit 50K/30K/15K/6K is Sunday, February 17; the XTERRA SoCal Series continues February 3 at Mission Gorge; and the Big Baz Winter Trail Run Series continues on February 2 & 16 at Blue Jay Campground.
Yesterday's run to Mugu Peak included several of the trails on the Ray Miller Course, so this morning I got in some miles on the Bandit trails. The title photo was taken near the high point of the Bandit 50K and 30K courses in Rocky Peak Park.
This year, rather than doing two Chumash – Las Llajas loops, Bandit 50K runners will do a new out and back segment in Tapo Canyon Open Space to Tapo Canyon Rd. Both 50K and 30K runners we'll run up Las Llajas Canyon — in the distance on the left — and then up from the old oil field to Rocky Peak Road. After a short downhill Rocky Peak Road climbs to "Fossil Point" the high point of the course.
Related post: Bandit 50K 2011 Notes