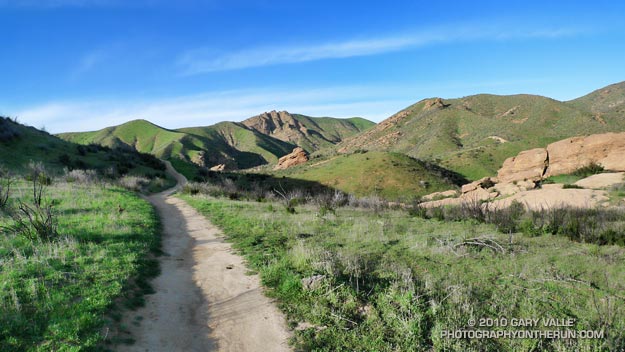 The 2.5 mile run down the Chumash Trail is my favorite section of the Bandit 30K course. Mike Kuhn and the Rancho Simi Trail Blazers work hard to keep this single track trail in top shape. Th trail is technical, but fast, and the views are superb.
The Bandit course has a character all its own, with a great mix of spectacular scenery, challenging terrain, technical single track trails, and wide open fire roads. This year, the 14K course has been extended to 15K, turning around at the junction of the Chumash Trail and Rocky Peak Road.
The Bandit trail runs are coming up in two weeks — Saturday, March 13. For all the details see the Bandit 30K/15K web site.
Update 12/09/10. The date of the 2011 Bandit 15K/30K is Sunday, February 20th. A 50K distance has been added! Here's a Google Earth flyover of the Bandit 30K course, created from a GPS trace of the 2010 race.
Photos are from today's run on the Chumash Trail.
Related post: Bandit 30K 2009