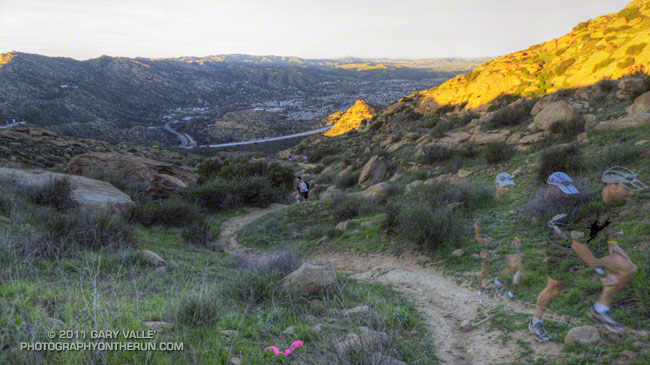 What a difference 5 days makes! In the cold morning shadows before the start of the Boney Mountain race last Sunday, the dew on the fences was frozen and frost was everywhere. This morning in Corriganville Park the temperature was a balmy 65 or so, and the high was expected to be around eighty.
Today I was running the Bandit 30K course as part of a training run organized by Bandit 15K/30K/50K R.D. Randy Shoemaker. Good thing too. Even though these are my backyard trails, it reminded me just how tough these courses are. The numbers — about 3300 ft. of gain/loss over 19.5 miles for the 30K — don't tell the whole story.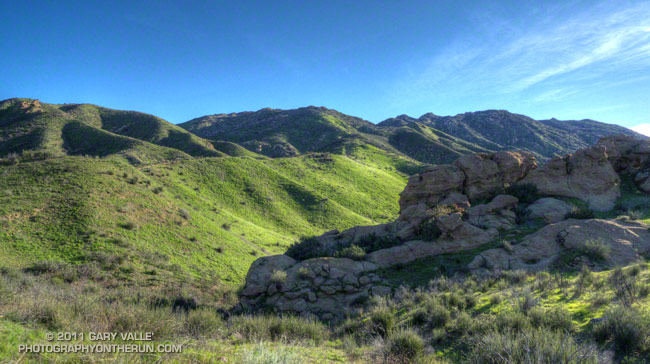 The title photograph is of runners at the top of the Wildlife Corridor Trail. This gnarly trail links Corriganville Park to Rocky Peak Road, and it is just one of the special treats you'll encounter on the 15K, 30K and 50K courses. I don't know if it tougher going up, when your legs are fresh; or going down, when your legs are worked. From personal experience I know it is really easy to push too hard on this climb, and mutter to yourself, "Why did I do that?" for the remainder of the race.
Today, the conditions could not have been better. Well, if we're going to nitpick, maybe a little less wind. But who can complain on a January day when skies are blue, the hills are green, and the temperature is in the seventies?