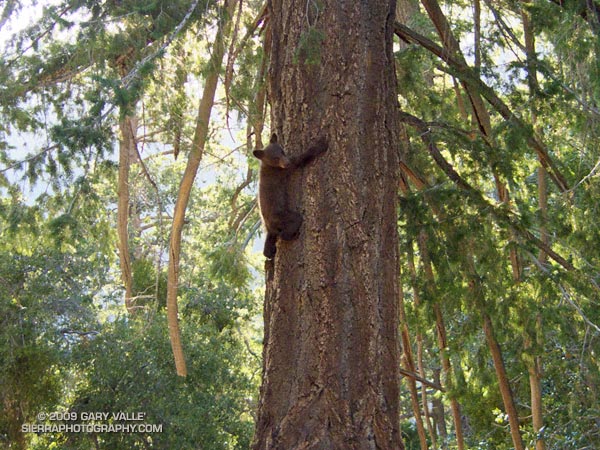 The thing about a dangerous situation is that you almost never see it coming. In an instant a pleasant adventure can turn really serious. We were in the San Gabriel Mountains about 2 miles down the little used South Fork Trail, and 20 minutes from Islip Saddle, when my running partner shouted, "Do you see that!"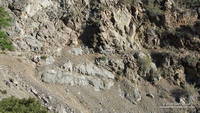 From the tone of her voice I knew it was something serious. My first thought was a mountain lion, but then I saw it — a bear cub clinging to a tree on the trail ahead. Sh*&! How many times had I told friends that I didn't worry too much about black bears, "unless, of course, it's a mother with her cubs."
Where was Mom? She had heard us coming down the trail, but apparently only had enough time to send her cub up the tree, and take cover. Not good, and potentially very dangerous. We couldn't see Mom, we couldn't hear Mom, but knew she was nearby. Most likely she was in the thick brush on the steep slope below the trail.
Suddenly, the cub scurried higher in the tree, its long claws digging noisily into the bark of the tree. That's when we saw that there were two cubs! The noise startled me, and I wondered if Mom — wherever she was — would react.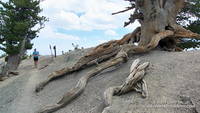 After a quick assessment, we walked quietly by the tree, and in a second or two started to jog. In a matter of seconds we were out of danger. It was fortunate that there were two of us and we were relatively noisy. A solo runner would have almost certainly surprised the mother with her cubs.
After a time the adrenalin subsided, and the rest of the run went very well. Temps were not quite as hot as expected on the low part of the course, and were pleasantly cool on Mt. Baden-Powell. Both the South Fork Trail and Manzanita Trail had been recently maintained. Some slides and washouts remain, but these are an integral part of the adventure and character of this trail run.
Update October 8, 2009. Here's a video of the cubs and Mom taken a couple of months after our encounter. The cubs have grown! The video is from Johanna Turner's YouTube Channel, which has fascinating footage of mountain lions, bears, deer, bobcats, foxes and other animals found in the mountains near Los Angeles.
More info about the approximately 23.5 mile course can be found in the post Islip Saddle – Mt. Baden-Powell South Fork Loop.
Related post: Wally Waldron Limber Pine