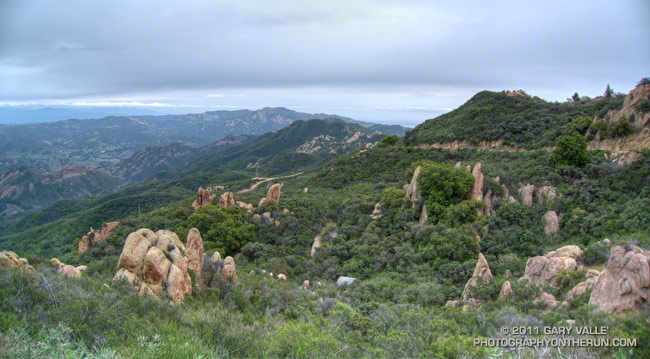 Weather models were forecasting anywhere from 3.5 to 5.5 inches of rain at Van Nuys for the storm coming in tonight, so this afternoon seemed like a good time to get in a run.
I hadn't run the Bulldog loop since the Bulldog 50K last August, and needed to catch up on trail conditions, what was blooming, and re-familiarize myself with the difficulties of the Bulldog Climb.
The short version is that the trail along Malibu Creek near the M*A*S*H site wasn't flooded, but would be in the next 24 hours. Tree poppy, nightshade, hummingbird sage, woolly blue curls, ceanothus and paintbrush were blooming. And the Bulldog Climb was still hard.
It looked and felt like the day before a big storm. Temps were cool, and there was a thick deck of high clouds. Along the crest between the Castro "T" and the Malibu Bowl landslide the wind was blowing in strong gusts from the ESE, and it looked like the clouds might lower, thicken, and unleash a torrent at any time.
Near the end of the run, descending to Tapia Park, I was surprised to see my shadow and some blue sky. That didn't last for long. By 7:00 the first drops of what would be a record-setting storm started to dot the driveway.
The title photo is a view east along Castro Crest and Mesa Peak Mtwy, and the route of the Bulldog Loop. Saddle Peak is in the distance. Here are a few additional photos. Click for a larger image and description:
Some related posts: Bulldog 50K 2010 Notes, Malibu Creek State Park Scenic Loop, Bulldog Loop and the Corral Fire