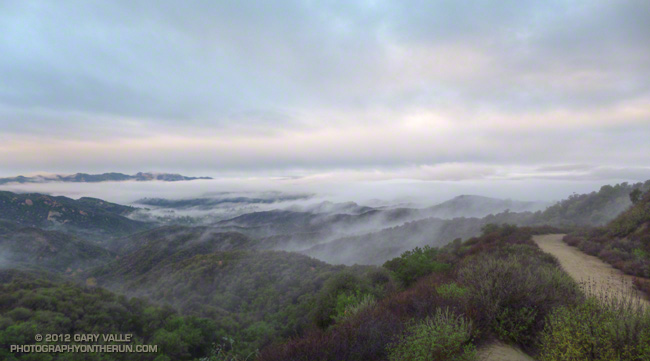 Although we didn't have the deluge they experienced in Central and Northern California, Southern California did get some rain. From Tuesday night (11/27) to Monday morning (12/3) Downtown Los Angeles (USC) recorded 1.03 inches, bringing the water year total to 1.36 inches. As of today that's 1.08 inch below normal.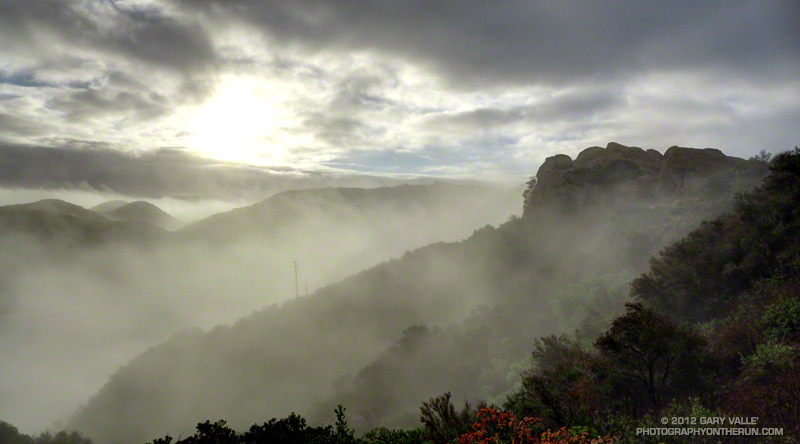 Some foothill and mountain stations were able to wring out much more rain from the moist tropical flow. Opids Camp recorded 3.02 inches, White Ledge Peak 4.09 inches, Refugio Pass 4.61 inches, and Rocky Butte 8.51 inches. For some storm totals from up north and more info about the "atmospheric rivers" that relayed the moisture up from the tropics, see my December 8 post on Southern California Weather Notes.
The photo above was taken between "storms" early Sunday morning, December 2, on a run in Topanga State Park. It started to rain shortly after I finished the run.
It looks like we might get a little more rain this next week, with a chance of rain on Wednesday and then maybe again on the weekend. We'll see!