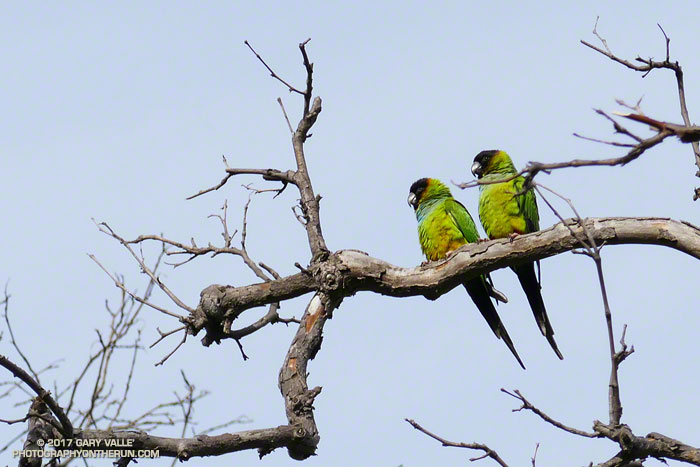 Indigenous to Southeastern Bolivia, southwestern Brazil, Paraguay and northern Argentina, much of the information on the web about the Black-hooded Parakeet appears to originate from these papers by Kimball L. Garrett:
POPULATION STATUS AND DISTRIBUTION OF NATURALIZED PARROTS IN SOUTHERN CALIFORNIA
POPULATION TRENDS AND ECOLOGICAL ATTRIBUTES OF INTRODUCED PARROTS, DOVES AND FINCHES IN CALIFORNIA
The raucous calls of these parrots can be heard throughout Big Sycamore Canyon. This pair was near the Danielson Multi Use Area.
From yesterday's run from Wendy Drive to the Chamberlain Trail.
Update March 28, 2017. Here's another pair of the Nanday Conures photographed on a recent run in Malibu Creek State Park along Crags Road east of Century Lake.