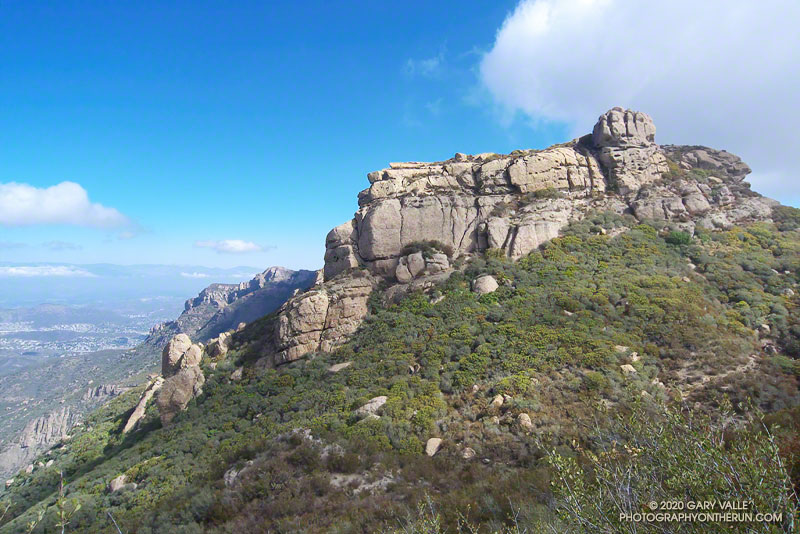 It's fun to link together several trails into a loop, and it's even more fun when the trails are single-track, or at least have a single-track flavor. The Boney Mountain – Big Sycamore Canyon circuit links together segments of more than ten trails and roads in Rancho Sierra Vista/Satwiwa and Pt. Mugu State Park. The route is characterized by airy ridges, steep climbs, wide-ranging views, towering rock formations, and one of the best downhill running segments in the Santa Monica Mountains. Today's run expanded the loop, adding even more single-track trail — and elevation gain.
This route also climbs over Boney Mountain and descends the Chamberlain Trail segment of the Backbone Trail. However, at the Old Boney Trail junction, instead of descending to the Danielson multi-use area on the Old Boney Trail (northbound) and Blue Canyon Trail, this route follows the Old Boney Trail (westbound) to Sycamore Canyon Fire Road.
From the junction of the Old Boney Trail with the Sycamore Canyon Fire Road the goal is to hook up with the Coyote Trail, which can be seen switchbacking steeply up a slope on the other side of the canyon. We did this by continuing about 0.5 mile down Sycamore Canyon Fire Road, and then turning right on Wood Canyon Fire Road. The Two Foxes Trail starts a short distance up the fire road, and in about 0.4 mile leads to the start of the Coyote Trail. Once on the Coyote Trail it is about 2.3 tough — and often hot — miles to the start of the Hidden Pond Trail at Ranch Center Road. The rest of the route is the same as in the Boney Mountain – Big Sycamore Canyon circuit.
All in all the course is about 21 miles long, with 4000 ft. of elevation gain/loss. Here's a Google Earth image and Google Earth KMZ file of a GPS trace of the route.