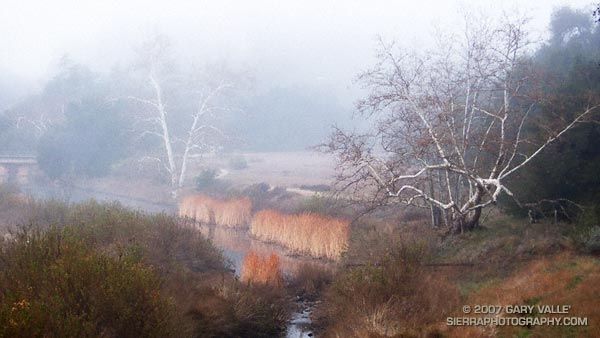 Quiet and cold, the fog enveloped the sycamore trees along the creek and wrapped my thoughts and footfalls in a chilling shroud. I had just started the Bulldog loop and was running along a frosty road in Tapia Park. Suddenly there was a rustle and a blur of brown. Two deer darted in opposite directions. One ran toward the creek, stopping about 50 yards away. The other crossed the road in front of me, stopped at its margin, and from a distance of about 15 feet, calmly watched me run past.
I followed the dirt road another quarter-mile to the start of the Tapia Spur Trail and worked up the trail to a plastic bottle-littered pass. Along the way, I'd picked up an empty snack bag, and a couple of soda cans. Improvised trash bag overflowing, I headed down into Malibu Creek State Park.
Except for a short detour around Malibu Gorge and Century Lake, the route along Crags Road follows the meandering course of Malibu Creek. Near the M*A*S*H site, the sky began to lighten, and on the Bulldog grade, I climbed out of the fog and into a dazzling Winter sun.
Curling clouds clung to the hillside as if trying to pull the sunlit carpet of chaparral down into the gloom. Warmed by the sun, I continued the long climb to the Bulldog – Castro Crest "T." This intersection is at about mile 8 on the 14 mile loop.
It was not until I was descending the fire road near the top of Corral Canyon that the first scars of the Corral Fire could be seen. Originating in this area, the November 2007 fire destroyed 53 homes and consumed 4901 acres.
The first burned area directly on the Bulldog route was in the rocks east of Corral Canyon Rd., at about mile 9.25. From here to about mile 12, near the junction of the Tapia and Mesa Peak motorways, the fire was generally limited to the area south of the Mesa Peak Motorway. However, it did cross the road at a few points.
Where the loop begins its descent to Malibu Canyon (by the water tank), the single track trail had been bulldozed to restore a section of fire road destroyed years ago by a landslide. After stopping for a moment at the bottom of the new road to chat with a hiker, I turned left onto Tapia Motorway and began the two mile descent back to the car.
Here is a Google Earth image and a Google Earth KMZ file of a GPS trace of the Bulldog Loop, with the 11-27-07 GEOMAC Corral Fire perimeter added.
Note: Mileages are approximate and measured by GPS from the intersection of Piuma Rd. and Malibu Canyon Rd.
Related posts: Backbone, Bulldog & Beyond, Rock Formations Along the Backbone Trail