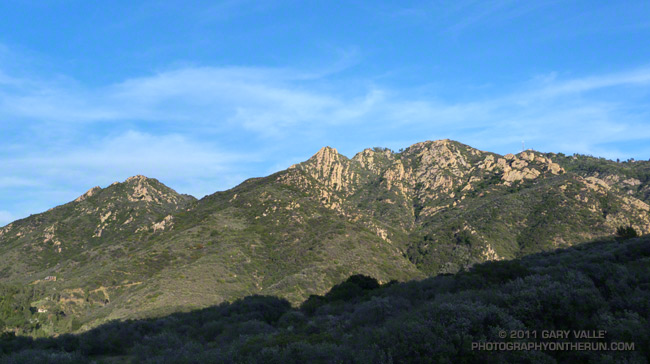 Which to do? Both courses start at the intersection of Malibu Canyon Rd. and Piuma Rd., are 13-14 miles in length, and have about 2600-2700′ of elevation gain/loss — but they are very different trail runs.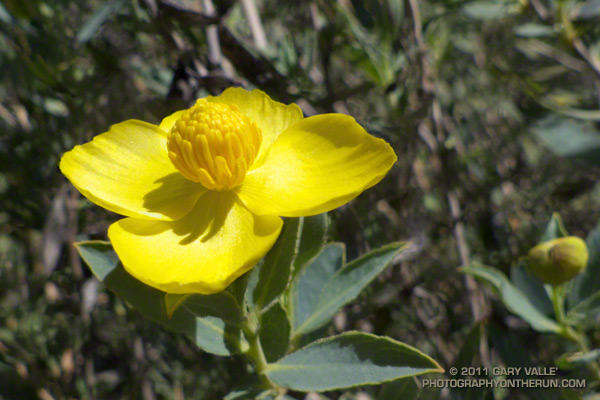 Much of the Bulldog Loop is on fire roads, while the Saddle Peak Out & Back is 99.9% single track — much of it rough and technical. A comparison of the elevation profiles shows that the main climb on the Saddle Peak run is steeper than the Bulldog climb, and gains an additional 300 ft. in elevation. The Bulldog Loop has longer stretches of more or less level running.
Either course is a good choice for a strenuous run with great views and scenery. On a long run day, the runs can also be combined to create a difficult 27.5 mile course with your car as the main aid station. The Bulldog 50K used to follow much of this combined course, as well as loop through upper Solstice Canyon on the Backbone Trail. Problems with a property owner on Castro Peak necessitated a change to the current 50K course.
Today I opted for the Saddle Peak Out & Back run. The title photograph is Saddle Peak from the Backbone Trail. The trail switchbacks up the steep sunlit face on the center-left of the photo.
Here are interactive Cesium browser Views of the Saddle Peak Out & Back, and the Bulldog Loop.