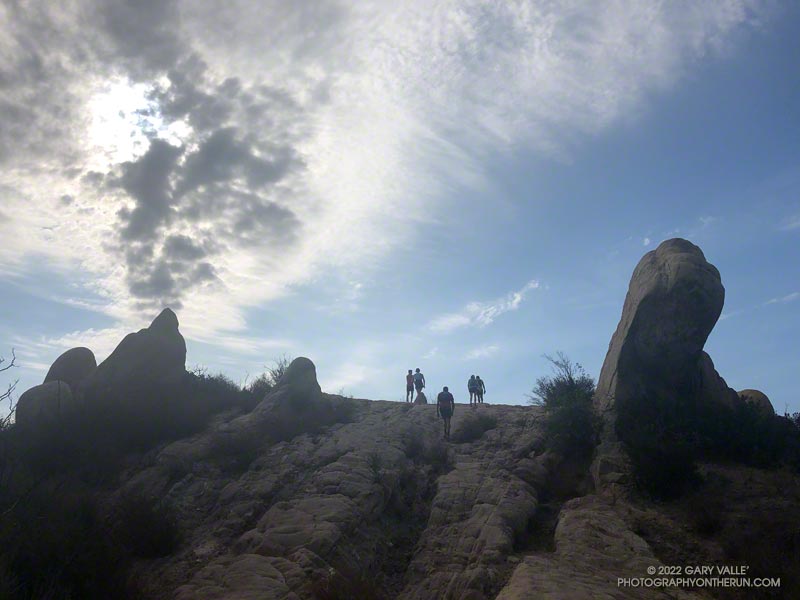 When I parked at Malibu & Piuma to do the Bulldog Loop on Sunday, I didn't know that I was going to be swept up in a Bulldog Ultra training run.
I had just started up Bulldog Mtwy fire road when the first group of speedy runners swarmed past. The strenuous climb to the Castro Peak Mtwy gains about 1750 feet over 3.4 miles. Much of its infamy is due to the oven-like conditions typically experienced on the second loop during the Bulldog 50K.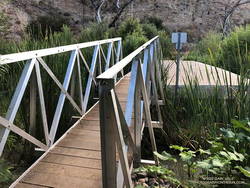 This morning, the climb was a little warm in spots, but not bad. There was a good turnout for the training run and nearly everyone was enjoying the run.
On the way up I had an interesting conversation with a runner that had just done their first 100 miler and was going to pace someone in the AC100 this weekend.
In case you haven't heard, State Parks has finally come up with a solution to the repeatedly washed-out footbridge across Malibu Creek, east of the M*A*S*H site. An extension was added to the massive block of concrete that formed the foundation of the old bridge. No more shaky log crossings — at least for a while.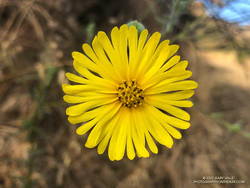 Here's an interactive, 3D terrain view of the Bulldog loop. The map can be zoomed, tilted, rotated, and panned. To change the view, use the control on the upper right side of the screen. Track and placename locations are approximate and subject to errors. Poor weather and other conditions may make this route unsuitable for this activity.
Good luck to all the runners doing Bulldog — especially those doing their first trail race or ultra!
Some related posts: Sunlit Rocks Along Castro Peak Motorway; Trees, Bees, and a Washed-Out Footbridge on the Bulldog Loop in Malibu Creek State Park; Bulldog Loop Plus the Phantom Loop; After the Woolsey Fire: Bulldog Loop