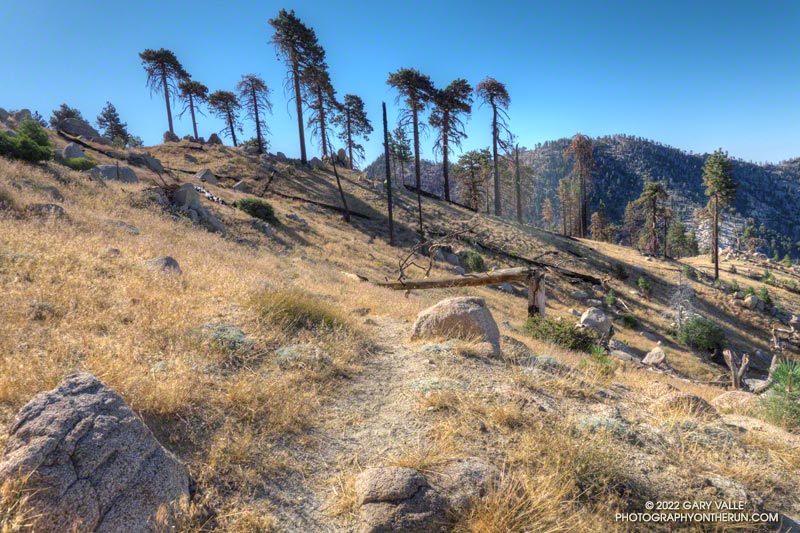 Most of the time, when I do a trail run in the San Gabriel Mountains, it starts from a trailhead along or near Highway 2 — Angeles Crest Highway.
There are many fine point-to-point and out-and-back runs along Hwy 2, but not very many loops. Of the handful of loops that are currently open and accessible, two start and end at Three Points.
One is the Three Points – Mt. Hillyer Loop and the other is the Three Points Loop around Mt. Waterman. The Three Points – Mt. Hillyer Loop was not affected by the Bobcat Fire and is described in this April 2021 post.
On the other hand, significant parts of the Three Points Loop around Mt. Waterman were burned in Bobcat Fire, and the trails that comprise the loop were closed until April of this year (2022).
A large area on Mt. Waterman was burned by both the Bobcat and Station Fires. This can be seen in this interactive , 3D terrain view the area. The Bobcat Fire is yellow and the Station Fire is red. Where they overlap near Mt. Waterman is orange.
The Three Points Loop is the loop I do most often in the San Gabriel Mountains. The basic loop, not including the side trip to the summit of Mt. Waterman, is about 20 miles long and has about 4000′ of gain/loss. The terrain and trails are varied and interesting, and Buckhorn Campground is conveniently placed near the halfway point of the course. Water is USUALLY — BUT NOT ALWAYS — available when the campground is open.
Doing the side trip to Mt. Waterman adds about 1.7 miles and 350′ of elevation gain. The side trip to Cooper Canyon Falls is even shorter — only about a quarter-mile.
Fire perimeters and burn severity maps don't tell the whole the story, and I've been curious to see how the area was affected by the Bobcat Fire; how the Station Fire recovery is continuing; and how the area burned by both fires has fared.
Here is an interactive, 3D terrain view of the Three Points Loop. The map can be zoomed, tilted, rotated, and panned using the navigation control on the right. Track and placename locations are approximate and subject to errors. Poor weather, and other conditions may make this route unsuitable for this activity.
This slideshow includes photos from the August 2022 run of the loop, as well as additional information.
Some related posts: Three Points Loop Adventure – July 2020, Bobcat Fire Perimeter and Some Angeles National Forest Trails, 3D Terrain View of Bobcat Fire Soil Burn Severity and Some Angeles National Forest Trails