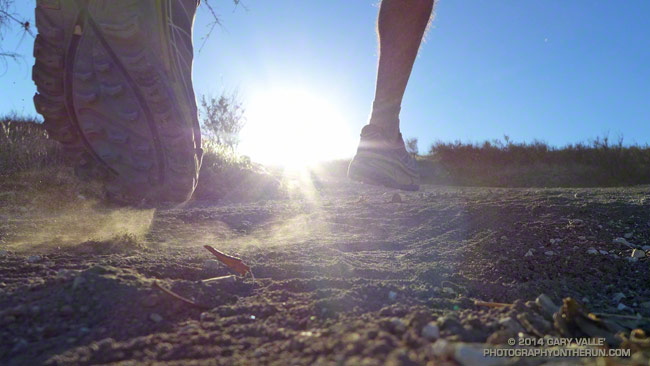 Since being acquired by Decker Outdoor Corporation in April 2013, Hoka One One has continued to innovate, improving existing designs and introducing many new designs.
Back in February when we were last talking about Hokas, I'd been running in the Mafate 2s and had just purchased a couple of pairs of Mafate 3s. The Mafate 2s were big, mega-cushioned, protective, durable and moderately heavy. I put over 1000 miles on one pair of Mafate 2s and around 300-500 miles on each of several other pairs.
The Mafate 3 improved several aspects of the Mafate design, but gained weight in the process. My Mafate 3s are more than an ounce heavier than my 13.8 oz. Mafate 2s. Heavy or not, I did a lot of training and a few races in the Mafate 3s and overall the shoes have worked well for me.
Add an ounce here and an ounce there and pretty soon you're running in a shoe that weighs nearly a pound — or more in some circumstances. Although it hasn't been a problem for me in drought-plagued Southern California, the Mafate 3s can become insanely heavy when wet. A friend that lives on the North Shore weighed them in at a foot-dragging 1.5 pounds each after a wet run!
The weight of the Mafate 3s and lower volume toe box were not ideal, so I started looking for an alternative. In April 2014 I got a pair of Hoka Rapa Nui 2s. The Rapa Nui 2s are a far more nimble shoe, with less cushioning, less protection, and a lot less weight than the Mafate 3. My first pair of Rapa Nui 2s weighed in at about 11.2 oz. per shoe.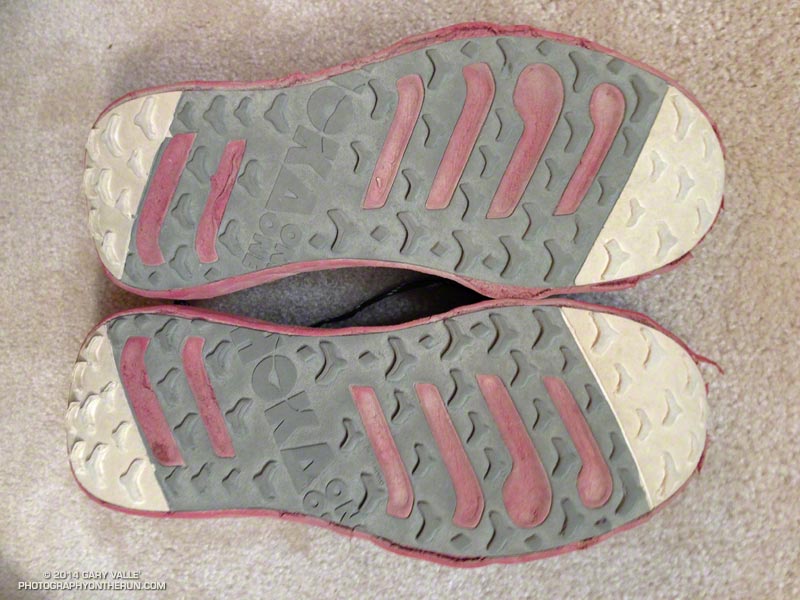 The Rapa Nui 2s fast became by favorite shoe. There are always trade-offs in design and the Rapa Nui 2s are not as durable as the Mafate 3. In normal running on dirt roads and single-track trails I usually get around 300 miles out of the Rapa Nui 2. However, a very rough and steep trail can beat up the shoes very quickly. This pair had about 160 miles on them when we did a run over Mt. Baldy and down the North Backbone trail and then descended Register Ridge on the way back to Manker Flat.
What I needed was a shoe that combined the best features of the Rapa Nui 2 and Mafate 3. And that's why I tried the Mafate Speed. They are lightweight, protective, not over-sized, have very good cushioning, and are more durable than the Rapa Nui 2. The perfect choice for a long run, right?
I thought so. I'd never had a serious problem with any Hoka, but did with this pair of Mafate Speeds. By mile 9 of the AC100 the ankle cuff of the shoe had worn a bloody sore on my right outer ankle bone. I switched back to Rapa Nui 2s and had no more foot problems.
This experience made me wary of the Mafate Speeds, but I really liked the shoe and recently decided to try them again. And again I had the problem with the right ankle cuff digging into my ankle.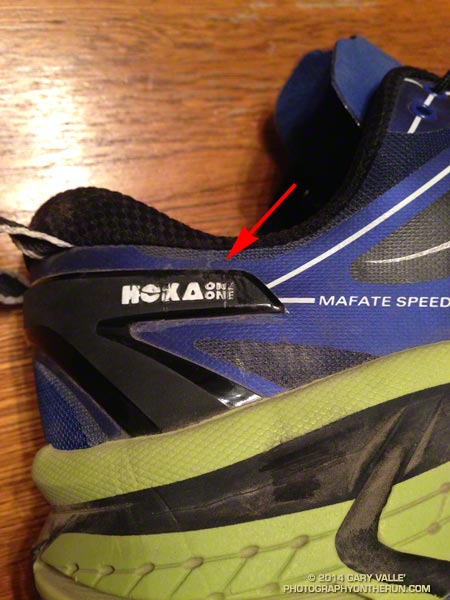 In each case the chaffing was much worse on the right ankle. Why wasn't the left shoe digging into my ankle? After taking a closer look at the shoes it turned out the external plastic stiffener on the right shoe was much closer to the ankle collar than on the left shoe. This made the minimally-padded collar less flexible.
After I trimmed the stiffener to increase the gap, the problem was mostly resolved. I say mostly because I think the cuff could still benefit from a bit more padding. I'll have to see how they feel on a 25+ mile run on technical single track, but I think they'll probably be OK.
Although I've had this issue on both pairs of Mafate Speeds I've purchased, I checked the Mafate Speeds of a couple of friends and the spacing between the collar and stiffener were more or less equal on their shoes.
So for now, the Rapa Nui 2 is still my go-to shoe for races and my training time is about equally split between the Rapa Nui 2, Mafate Speed and Mafate 3. If the Mafate Speed (modified as necessary) works out OK on longer runs I'll probably do more training and perhaps racing in the Mafate Speeds. We'll see!
Update January 23, 2015. I've returned the Mafate Speeds and exchanged them for a second pair of the Hoka One One Challengers. The Challenger is very lightweight and comfortable, and it doesn't have the 'External TPU Heel Counter' that (in my case) over-stiffens the ankle collar.