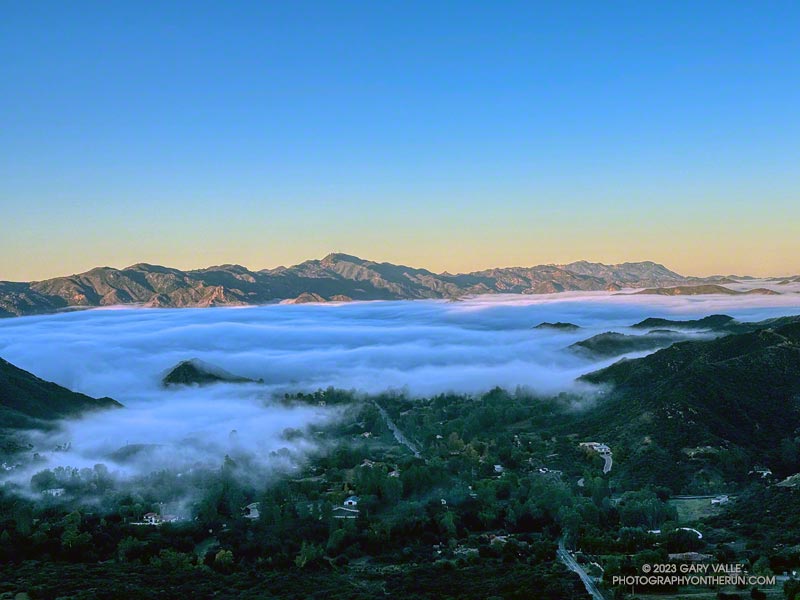 The sun had risen, casting a warm morning light on the Santa Monica Mountains. Overnight, low clouds flowed inland through Malibu Canyon, emphasizing the peaks and covering the valleys.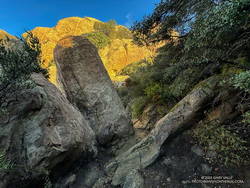 I had just started up Topanga Lookout Ridge and was less than a mile into the Topanga Lookout Ridge Loop. Rain had muddied the ground and cleansed the sky, producing crystal clear views in every direction.
The view of the western Santa Monica Mountains extended from the top of the Tapia climb on Mesa Peak Motorway, past Castro Peak, to Boney Mountain and the highest peak in the Santa Monica range — Sandstone Peak.
In my mind, I traced the route of the Backbone Trail along the crest. My route would take me to the Backbone Trail, but this morning I would enjoy running only a few of its sixty-eight spectacular miles.
Some related posts:
Topanga Lookout Loop, Plus Saddle Peak
Looking for Snow on Topanga Lookout and Saddle Peak
Topanga Lookout Site and the San Fernando Valley