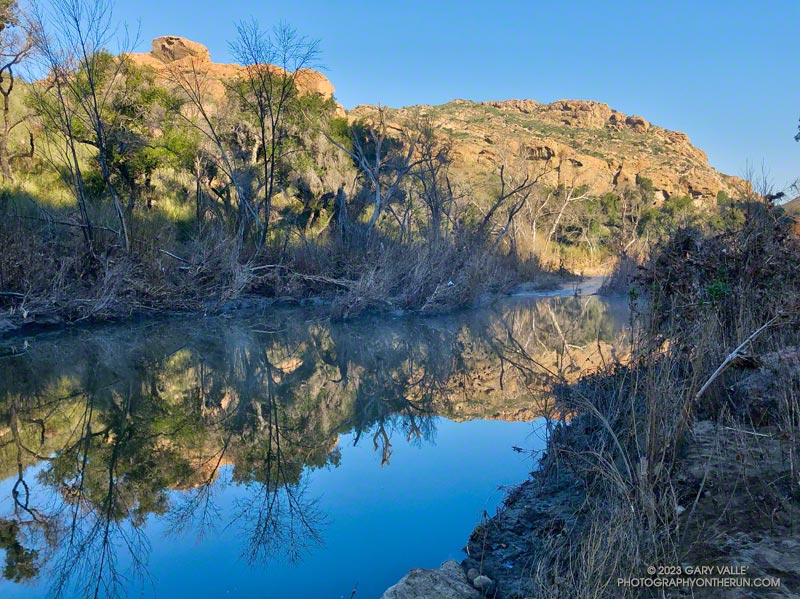 Remember that shiny, new bridge on the Crags Road Trail that made it easy to cross Malibu Creek? Well, it's gone, gone, gone — washed away by high flows on January 9, 2023. State Parks has built and rebuilt several bridges here. All that remains is a massive block of concrete used as a foundation.
I was just a couple of miles into an extended version of the Bulldog Loop. The temperature was in the mid-30s, and once again, I was having to cross Malibu Creek on a makeshift bridge of wobbly limbs and debris.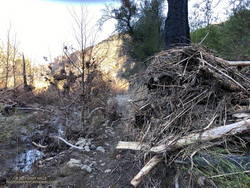 The flood was the result of a series of three increasingly wet storms between December 30 and January 10. During that period, the Malibu Canyon RAWS recorded about 13 inches of rain. In the last storm of the series, 6 inches of rain was recorded in about 33 hours.
The flooding along the Crags Road Trail from the Forest Trail junction to the M*A*S*H site was similar to the February 2017 and December 2021 events. In the January 2023 event, more debris was deposited on the trail, and sections of the trail were obliterated. That stretch of trail is popular, and a new use trail is already taking shape.
Rainfall and runoff were even higher in Santa Barbara and Ventura Counties. The Rose Valley RAWS recorded over 22 inches of rain for the three storms. According to preliminary streamflow data, the Ventura River Near Ventura reached a new record stage height of 25.42 feet on January 9. The Sespe Creek Near Fillmore gage malfunctioned at the peak flow but reached at least 20.38 feet.
Some relate posts: Malibu Creek December 2021 Floods, Malibu Creek Flooding, Southern California Creeking