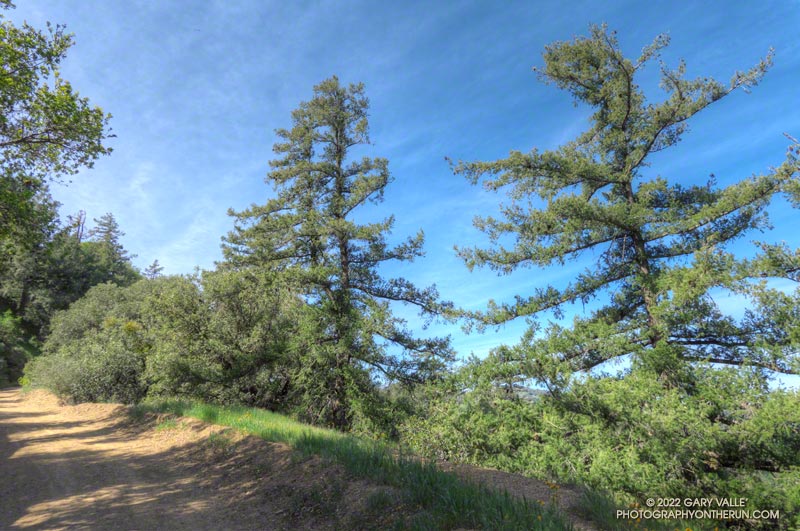 I hadn't seen a hiker, runner, or mountain biker since turning off East Canyon Mtwy fire road. That was about 2 miles ago. I checked my watch — it read 18 miles. Had I'd made a wrong turn?
Today's plan was to do the first 25 miles of the Santa Clarita Ultra & Trail Runs 50K. A week ago I'd run the first (blue) and third (yellow) sections of the course, and today's run would theoretically combine the first (blue) and second (orange) sections.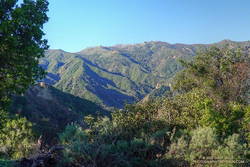 So far, the run had gone well. It had started with an extended version of the popular Towsley Canyon Loop in Ed Tavis Park. After climbing up oil-rich Wiley Canyon to a view point at an elevation of about 2450′, the course descended a series of long switchbacks, and passed through a gap in Towsley Canyon known as the Narrows. A mile down the canyon from the Narrows I'd used segments of the Elder Loop and Taylor Loop trails to run over to Lyon Canyon.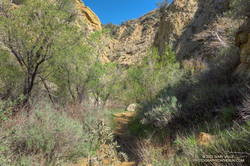 Following an out and back up the canyon to the top of a prominent hill, the course continued on the Taylor Loop nearly to the Old Road, eventually circling back to the parking area at Ed Davis. At the parking lot my watch read a bit over 9 miles.
After switching from a bottle to a pack, I'd run on the Old Road over to the East Canyon Trailhead. From there the course followed East Canyon and Sunshine Canyon fire roads to Mission Point. The climb up to Jones Junction gains about 1300′ in 3 miles, then it's another 1.5 miles over to Mission Point (2771′), the high point on the course.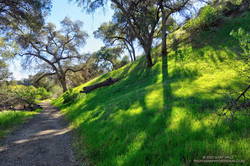 One of the highlights of the run up East Canyon was the very healthy-looking Bigcone Douglas-firs higher on the road. Now relegated to the cooler climes of steep, north-facing mountain slopes, the species used to be far more widespread in Southern California.
On the way to Mission Point, the views of the San Fernando Valley from the crest were outstanding, and gave a perspective of the Valley I had not seen before. Apart from having to detour along fence lines bordering private property, and continuous gunfire in a section of the canyon that is near a popular gun club, the run to Mission Point was excellent.
Returning from Mission Point there was another part of the course I needed to do — an out and back on Weldon Mtwy. Which brings me back to mile 18 of today's run. After turning off East Canyon Mtwy on what I thought was Weldon Mtwy, I had expected the fire road to loose elevation relatively quickly. But that wasn't happening.
Instead of running down a canyon, I was running along a ridge — a long ridge. Below and to my right was what looked like a landfill. Below and to my left I could see the Old Road and Santa Clarita. They seemed a long way down.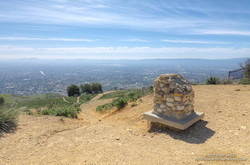 There were several ways I could have checked where I was — my watch has maps; my phone had maps; and I had a map in my pack. But I wasn't in trouble and was already two miles down this road — whatever it was. If I wasn't on Weldon Mtwy, it would still be a trail I hadn't done.
After a couple of "I'll just go a little farther down and see what I can see" episodes, I eventually turned around and headed back up the fire road. When I got back to East Canyon Mtwy, I checked the yellow pole marking the junction of the fire roads — it was marked "WELDON." Later, I checked my track and found I had turned around a half-mile from the Newhall Pass Trailhead. Now I know.
Overall, I'd enjoyed the course, and decided I would register for the 50K. But registration closed early, and now I see the event has been postponed until November. Oh well, I still got to run in a new area and check out some interesting trails!