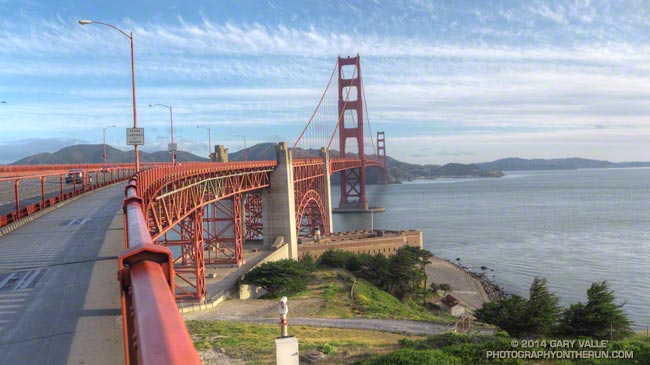 If you've driven across the Golden Gate Bridge during the afternoon and seen the throngs crowding the sidewalks you might think of running across the Bridge as being akin to game of pedestrian pinball. But there are times when you can have the Bridge nearly to yourself and enjoy a meditative run across this icon of icons.
According to the Golden Gate Bridge web site the east (pedestrian) Sidewalk opens at 5:00 am year around. Starting a couple of miles away I reached the south side of the Bridge at 7:00 am on a Sunday, and even at that late hour there were very few people on the Bridge.
The distance across the bridge from gate to gate is about 1.7 miles. The Coastal Trail can be accessed from the north side of the Bridge, so depending on where you start in San Francisco you could run across the Bridge and then do a nice trail run on the Coastal Trail and only add 3.7 miles (or so) to your total distance.