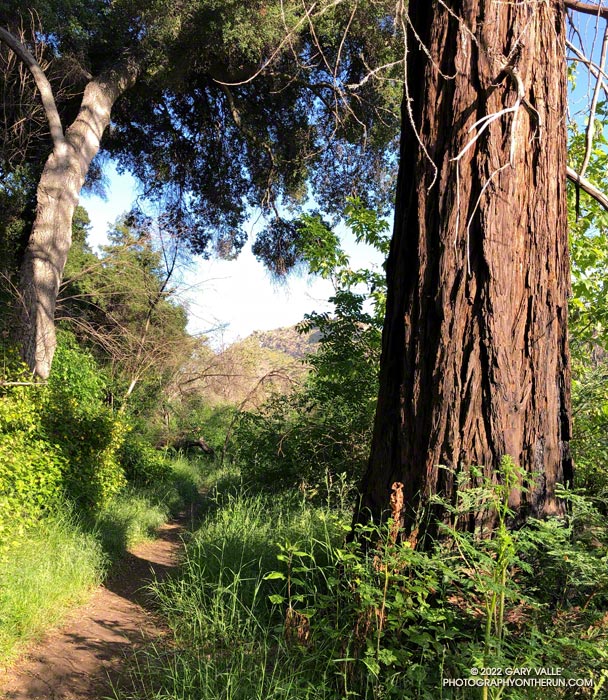 The nasal bellowing of a bullfrog shook the morning, but didn't disturb the mirror-like surface of Century Lake. I had paused along the Forest Trail in Malibu Creek State Park to take in my surroundings. Here and there glimmers of sunlight reflected from the base of the reeds along the opposite shore. Birds called, flowers bloomed and Nature continued to work in its wonderous way.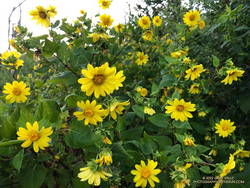 My run had started at the Cistern Trailhead on Mulholland Highway and then wandered about the Reagan Ranch area. The Lookout and Yearling Trails had been thick with mustard and badly overgrown. The plants had been wet with dew, and my black sleeves and shorts had been liberally sprinkled with the bright yellow flowers. A few ticks had also hitched a ride, but were removed before they could bite.
It had been a relief to get back to the Cage Creek Trail and descend to the Crags Road Trail and Malibu Creek. The logs extending across the creek from the washed out bridge had been rearranged, making it easier to cross.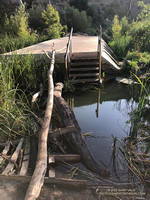 No other trail in the Park is quite like the Forest Trail. The trail isn't part of a loop, doesn't connect to other trails, and is only a half-mile long; but it feels like a trail you might find in Big Sur, Santa Cruz or the Bay Area. The forest is comprised primarily of coast live oak, California bay, and sycamore, but at several spots along the trail you'll find coast redwoods.
Coast redwoods are not endemic to Southern California. All but one of the Forest Trail redwoods were planted over 100 years ago. The trees were severely impacted by the 2011-2015 drought, and only a few have survived. Even so, they are easy to spot — the large, deeply-furrowed, copper-brown trunk of a coast redwood is unmistakable.
Note: There is some poison oak along the Forest Trail, and this year some was protruding onto the trail.
Some related posts: The Malibu Creek State Park Redwoods Are Dying; Malibu Creek State Park Redwoods: Fighting the Drought; After the Woolsey Fire: Malibu Creek State Park Redwoods, M*A*S*H Site and Bulldog Climb