Downtown Los Angeles (USC) finished the 2022-2023 Water Year with 31.07 inches of rain, making it the seventh wettest on record in Los Angeles. The rainfall total includes about three inches of rain from former Hurricane Hilary as it moved through Southern California as a rare tropical storm and post-tropical cyclone.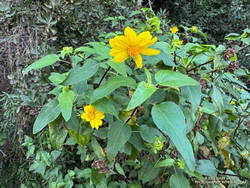 The effects of all that rain can be seen on just about any trail in Southern California. It has resulted in a false Spring in many areas, with greening hills, out-of-season wildflowers, flowing creeks, and profuse growth throughout the area.
This morning, I returned to the Top of Reseda and Topanga State Park to do a variation of the Trippet Ranch Loop and continue exploring and enjoying the unusual conditions.
After running up to the Hub, this variation does an out and back to Temescal Peak and Temescal Lookout. After returning to the Hub, the route continues on Eagle Springs Fire Road down to Trippet Ranch. From Trippet Ranch, it works back to the Top of Reseda using the Musch and Garapito Trails and connecting sections of fire road. This interactive, 3D terrain map shows a GPS track of the trail run.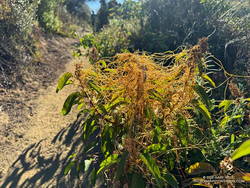 Visiting Temescal Peak and Temescal Lookout increases the run's mileage from 12.5 miles to 16. On a clear day, the runner is rewarded with far-reaching views of the coast, West L.A., Downtown, and the surrounding mountains.
While most of the roads and trails on this route are frequently used and in decent condition, the Garapito Trail has been overgrown all Summer. As of October 8, it was still overgrown. Some people I've encountered on the trail were OK with this, but others haven't been so happy. If desired, the trail can be bypassed by continuing to the Hub on Eagle Rock Fire Road and retracing your route back to the Top of Reseda.
Here are a few photos (and notes) taken on the run.
Some related posts:
A Second Spring at Ahmanson Ranch
Lake Vista Ridge, the Forest Trail, and September Wildflowers
Looking For Local Impacts of Tropical Storm Hilary