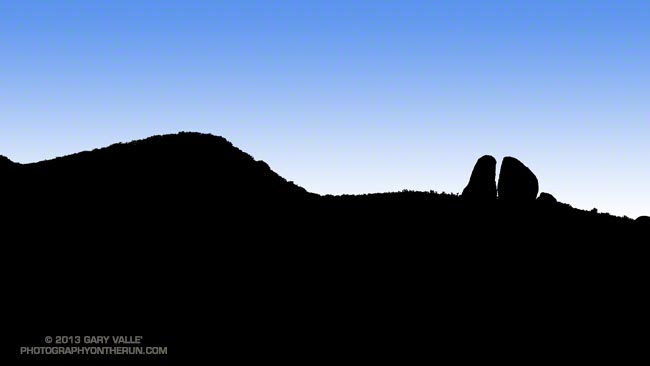 The large split rock on the Chamberlain Trail segment of the Backbone Trail is a familiar landmark to those that run and hike the trail. It marks the half-way point on the 3 mile, 1600′ climb from the Old Boney Trail junction to the Tri Peaks Trail junction.
The rock is volcanic in origin and part of a volcanic sequence known as the Conejo Volcanics. According to the Dibblee geologic map of the area the material of which the rock is composed was probably deposited as a lahar (volcanic debris-flow) about 16.1 to 13.1 m.y. ago.
Here's a link to a couple of videos of lahars on YouTube. After watching the violently churning rocks and debris in the videos it's easy to see why the rocks embedded in this volcanic matrix are broken into angular pieces and full of stress fractures.
There is a memorial plaque on the rock in tribute to Henry Chamberlain. A 1991 Los Angeles Times article characterized Chamberlain as a wealthy Los Angeles industrialist and rancher.