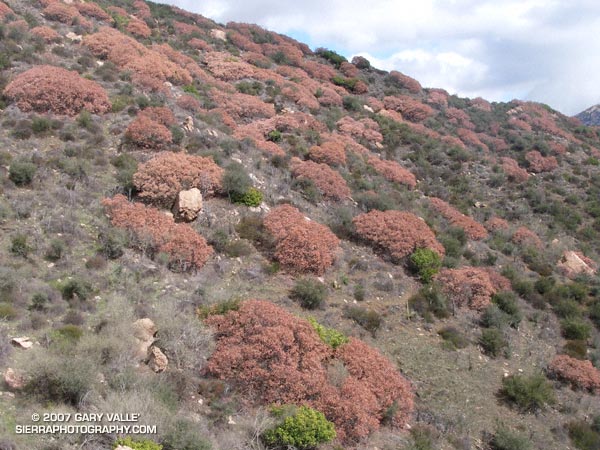 Updated March 6, 2007
As evidenced by their survival, native plants are generally well adapted to the environment in which they live. Fire, flood, drought, heat or cold, they've seen it all – or nearly so.
On January 14, 2007 many new record low temperatures for the date were set in the Southern California area. Several locations in the San Fernando Valley recorded temperatures in the 20's. Pierce College in Woodland Hills plunged to a record low of 20°F (-6.7°C).
The freezing temperatures resulted in extensive damage to fruit crops, nursery stock, and landscaping. The brown leaves of freeze damaged shrubs, trees and other plants are a common sight in the Los Angeles suburbs.
Since the freeze, I've run in several areas of the Santa Monica Mountains, Santa Susana Mountains and Simi Hills, and most native chaparral shrubs appeared to have weathered the cold temperatures well, exhibiting very minor, if any, visible damage. However, there are some exceptions.
One obvious exception is laurel sumac (Malosma laurina). I first noticed instances of laurel sumac with damaged leaves and stems on a run at Sage Ranch on January 24. Initially, I thought the damage might be limited to sprouting laurel sumac in the 2005 Topanga Fire burn area, but on subsequent runs damaged plants were seen in several areas unaffected by the fire, including Topanga and Malibu Creek State Parks. Now that the dead leaves and stems have turned brown, the affected plants stand out in the chaparral, and the extent of the damage is easy to see.
The sensitivity of Laurel Sumac and other chaparral plants to freezing temperatures and drought has been studied extensively by Dr. Stephen Davis of Pepperdine University's Seaver College Biology Department. This research confirms that the leaves and stems of laurel sumac are not as tolerent of freezing temperatures as some other chaparral shrubs. This reduced tolerance probably affects the distribution of the plant, favoring its growth in warmer coastal locations and inland microclimates.
Dr. Davis reports that, in addition to laurel sumac, other species that have been damaged at the lower, colder distributions in the Santa Monica Mountains include green bark ceanothus (Ceanothus spinosis), big pod ceanothus (Ceanothus megacarpus), sugar bush (Rhus ovata), and some hairy-leaf ceanothus (Ceanothus oliganthus). The lowest temperature recorded at his field sites was 10.4°F (-12°C).
A factor in the damage is that the freeze occurred during a period of relative drought. As of January 14, Downtown Los Angeles (USC) had recorded only 1.31 inches of rain since (but not including) May 22, 2006 – a period of nearly 8 months.
Although some of laurel sumac's adaptations to fire and drought may adversely affect the resistance of its foliage to freezing temperatures, it is precisely these adaptations that will enable most of the freeze damaged laurel sumacs to resprout and survive.
The photograph of freeze damaged Laurel Sumac was taken on the Backbone, Bulldog & Beyond run.