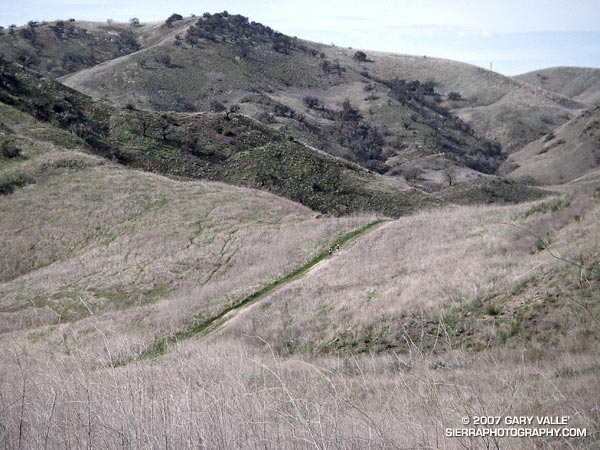 Two runners climb up the last yards of a hill before descending into Las Virgenes Canyon in Upper Las Virgenes Canyon Open Space Preserve.
The trail is a connector that joins East Las Virgenes Canyon with upper Las Virgenes Canyon. Our 15 mile loop started at the Victory trailhead, following the El Scorpion Trail to another long-used trail that climbs up to the ridge along the northern boundary of the preserve. From here we descended to Las Virgenes Canyon and worked over to Shepherd's Flat and down Cheeseboro Canyon, eventually returning to the Victory trailhead by way of the main drag.
The area seen in the photograph is a small portion of the 24,000 acres that was burned in the Topanga Fire in late September 2005.
Although an undercoat of green is apparent, the drought in Southern California continues. According to NWS climate data, as of today, Downtown Los Angeles (USC) has recorded only 2.42 inches of rain since the water year began on July 1, 2006. This total is nearly 9 inches less than normal.