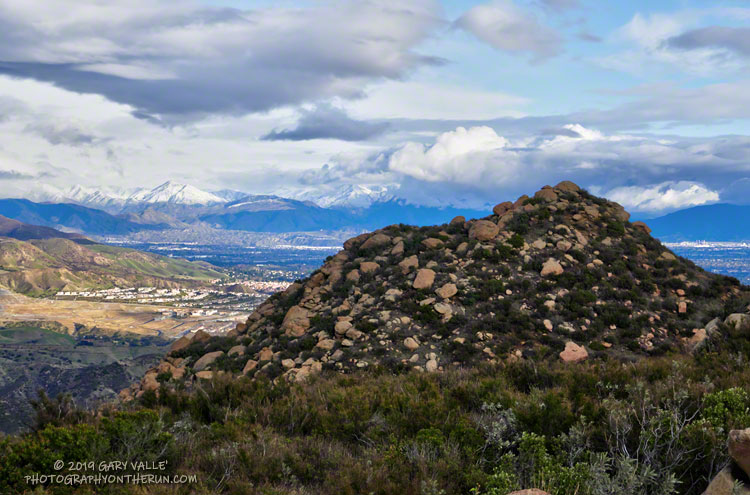 Rocky Peak Road is one of my go-to wet weather running spots. The sandy soil — thanks to the Chatsworth Formation sandstone — doesn't cake on your shoes when it's wet. It isn't entirely mud-free, but as long as you don't mind a few steep hills, it's a good choice when the weather turns wet.
According to preliminary rainfall totals tabulated by the NWS, Rocky Peak recorded 1.22 inches of rain during the Christmas storm. The snow level had been forecast to drop to 2000′-2500′ in some areas, so as the storm was breaking up I headed over to Rocky Peak to get in a run, and see what I could see.
I'd dressed for a cool and breezy run, and was comfortable as I worked up the first steep hill. But I hadn't run half a mile when I stopped and put on some gloves and a pair of stretch shorts. That helped, but the higher I went the colder it got. Up top, a little past Rocky Peak, my thermometer registered a chilly 38 degrees and the wind was gusting 10-15 mph. According to the NWS Wind Chill chart, that put the effective temperature at around 30 degrees.
And that's what it felt like. Part of the problem was that I was running into the wind, which increased the chill. I had a wind shell in my pack, but once I'd reached my turnaround point and had the wind at my back, it wasn't needed.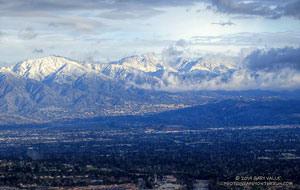 There was no snow on Rocky Peak Road or Oat Mountain, but from time to time the setting sun broke through the clouds and highlighted the snow on the nearby mountains. It was a far different scene than on the usual Rocky Peak run.
December has been wet in the Los Angeles area. As of December 27, Downtown Los Angeles (USC) has recorded 4.84 inches of rain this December, which is nearly three inches above normal. Rain year and water year precipitation totals are also well above normal, and at the moment, ahead of last year. We'll see what the new year brings!
Update January 24, 2020. Well, the new year hasn't brought us much in the way of precipitation. January in Downtown Los Angeles has been about as dry as December was wet. So far, Downtown Los Angeles has recorded only 0.32 inch of rain this January, well below the climate normal for the date. If there is no additional rain this month, Los Angeles will end the month with about normal rainfall to date for the Rain Year (Jul 1 – Jun 30) and Water Year (Oct 1 – Sep 30). Then we'll have to see if there is a pattern change in February, or if it is also drier than normal, as most guidance suggests.
Related post: Snow on Oat Mountain (2008)