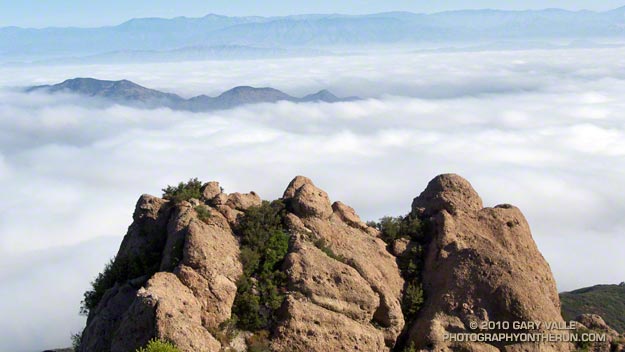 The clouds are in the Conejo Valley and the crags are a prominent highpoint on the ridge that tops the west face of Boney Mountain. Here's a Google Earth aerial view SSE along the ridge that shows the topography. From the upper cliffs the west face drops over 2000′ to the Backbone Trail in Blue Canyon.

Ascending the western ridge, or easier eastern ridge, is an adventurous way to access the Backbone Trail from Wendy Dr. Once over Tri-Peaks and on the Backbone Trail several loop variations are possible. These range from a relatively direct return on the Boney Trail, to lengthy excursions to Serrano Valley or La Jolla Valley.
Today's variation worked out to about 20 miles. Once on the upper section of the Backbone Trail, I followed it west down the Chamberlain, Boney and Blue Canyon trails to the Danielson Multi-use area in Sycamore Canyon. After doing a circuit in Sycamore Canyon I picked up the Upper Sycamore Trail and headed back to Danielson Road, Satwiwa, and the trailhead at Wendy Drive.
Some related posts: Boney Mountain Western Ridge & Loop, Sandstone Peak from Wendy Drive, Boney Mountain North Side Loop