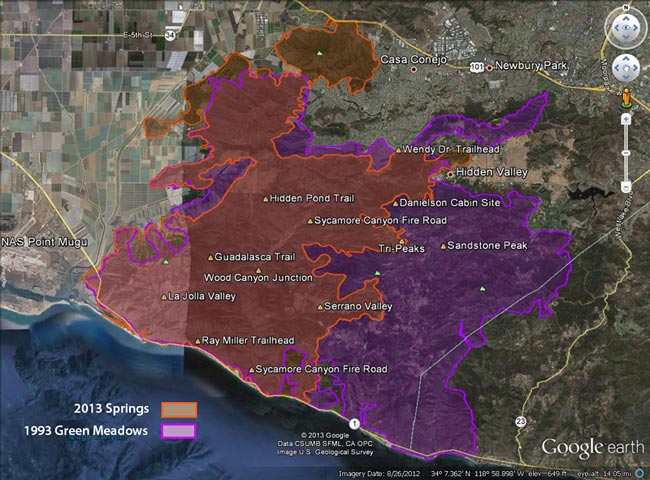 Prior to the Springs Fire the last fire to burn through Pt. Mugu State Park was the 1993 Green Meadows Fire. Here's a Google Earth image that compares the perimeters of these wildfires.
The Springs Fire perimeter is from the Geospatial Multi-Agency Coordination Group (GEOMAC) and is time-stamped 05/07/2013 at 0348. The Green Meadows Fire perimeter is from the Department of Forestry and Fire Protection – CAL FIRE Fire and Resource Assessment Program (FRAP).
According to FRAP GIS data, the Green Meadows Fire started on October 26, 1993, and burned 38,479 acres. The Springs Fire started on May 2, 2013, and according to CAL FIRE burned 24,251 acres.
Some related posts: Checking on the Chamberlain Trail, A Run Through Pt. Mugu State Park, Springs Fire Burn Severity, Springs Fire 2013