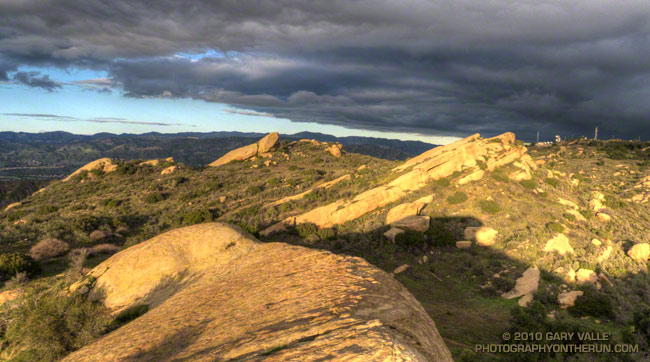 As skies cleared Monday afternoon, we thought we had put a wrap on the wet weather — at least for a while. But the Sunday-Monday system left a cutoff upper low spinning off the coast of Southern California, and as that low moves east over the next couple of days it could produce some showers.
That's the way it's been this rain season. Looking back through NWS rainfall data, since October 1 we've gone no more than 10 days at a stretch without measurable rain at Downtown Los Angeles (USC).
Even if our weather becomes more typical of what occurs during a La Nina episode, 81% of our normal annual rainfall is already in the bucket. To have an average year all we need is 2.86 inches between now and June 31. Downtown Los Angeles normally records about two-thirds of its annual rainfall in the months of January, February and March — around 10 inches — so (theoretically) 2.86 inches shouldn't be hard to do. But we'll see!
The title photograph is from a run in the Simi Hills on Monday.