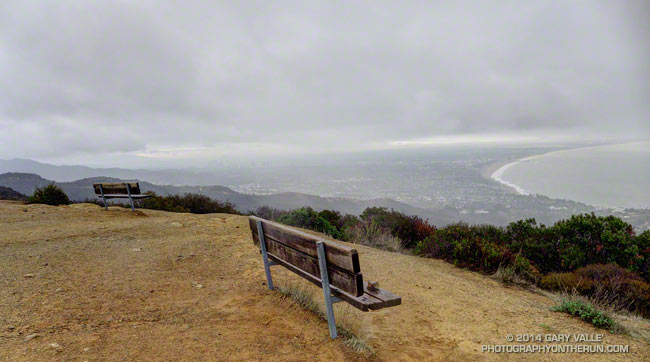 Beginning Wednesday evening and continuing into Sunday, two Pacific storm systems ended a nearly 14 month period of record-setting dry weather in Los Angeles and much of Southern California. Los Angeles experienced the driest calendar year on record in 2013, and until Friday had received less water year rainfall (since July 1) than in 2006-07, the driest water year since recordkeeping began in 1877.
According to preliminary precipitation data, Downtown Los Angeles (USC) recorded 4.52 inches of rain over the course of the storms, increasing its water year total from a desiccated 11% of normal to a not-too-bad-considering 50% of normal. Downtown Los Angeles' water year rain total now stands at 5.72 inches. This exceeds last year's cumulative precipitation total on this date by more than an inch, but still leaves us with deficit of nearly six inches.
Friday's rainfall total of 2.24 inches was the most recorded in 24 hours at Downtown Los Angeles since March 20, 2011, and Thursday's and Friday's total of 3.29 inches was the most rain recorded in 48 hours at Downtown Los Angeles since December 19 & 20, 2010. The storms increased February's rainfall total to near normal, and jump-started March with nearly half its normal amount of rain.
Foothill and mountain areas that faced into the storms' moist southerly flow recorded some impressive rainfall totals. According to this compilation of preliminary rainfall totals from the NWS Los Angeles/Oxnard, Opids Camp near Mt. Wilson recorded nearly 11 inches of rain, and several stations in the Ventura Mountains recorded double-digit rainfall totals.
Update March 4. With this recent rainfall 2013-14 will not be the driest water year in Los Angeles on record; but one good storm, or even two, "does not a rain season make." In the short term these storms have dramatically reduced the fire danger, provided crucial relief to plants and animals, and increased groundwater and reservoir storage. What happens in the longer term we'll just have to see. Over the next several days a series of systems are forecast to produce additional rain from Central California north into the PNW. While no rain is forecast in Southern California over the next week or so, and the 8-14 day outlook is for below average rainfall, some model runs have indicated the possibility of additional rain around mid-month. As long as the Pacific weather pattern remains progressive there should be additional opportunities for rain in the weeks ahead.
A related post with more technical detail and graphics is available on my weather and climate web site Southern California Weather Notes.
The title photo is from yesterday's showery run to Parker Mesa in Topanga State Park.