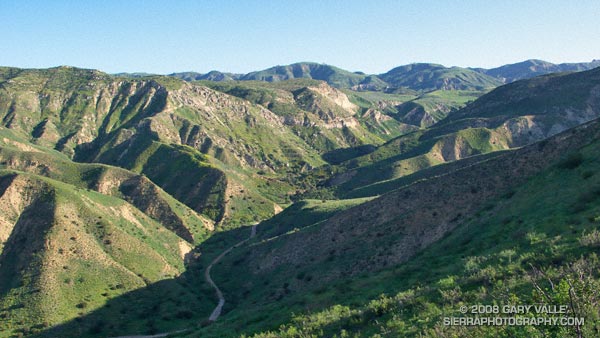 At times the site of a religious colony, a grit mine, an oil field, and a housing development, Las Llajas Canyon is now part of the Marr Ranch Open Space and Rocky Peak Park. Its oak groves, gurgling stream, varied plants, and unique geology make it a popular place to hike, run or ride.
According to California Place Names, Las Llajas might have originated from a misspelling of the Spanish word "llagas," which literally means sores or wounds. Perhaps this was a reference to the area's natural oil seeps. These would have been an important resource for the Chumash and early settlers.
The trailhead for Las Llajas Canyon is on Evening Sky Drive, in Simi Valley. From the trailhead it's about 3.4 miles up the (mostly) dirt road to a windmill and oak-shaded trail junction. From the junction a connecting trail crosses the creek and then climbs steeply to Rocky Peak Rd., passing a derelict oil well on the way.  A strenuous 9.2 mile loop follows this route, and is described in the post Chumash-Las Llajas Loop.
There are also some less used side trails in Las Llajas canyon. One of them climbs a peak on the west side of Las Llajas Canyon, ascending a ridge and then cutting across a steep, rocky face, before continuing up the mountain. The rough and somewhat overgrown trail was probably started sometime around 1920-30 as part of a mining project.
It is my impression that the trail and mining operation were the lifework of a very determined and hard working individual. As the trail winds up the mountain, there are bits and pieces of rusted mining equipment and abandoned dig sites — signposts of success and failure on the meandering trail of time.
At the end of the trail, a few feet from the summit of the peak, is a P&H Model-206 Corduroy power shovel. Nearly out of mountain, its bucket is poised to scoop another load, waiting for its operator to return.
Google search: $g(trail running), $g(Las Llajas), $g(Simi Valley), $g(mining)