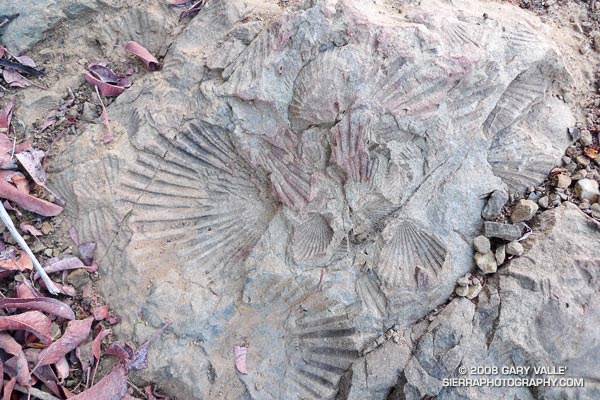 The Fossil Trail is a steep, approximately mile-long trail in Pt. Mugu State Park that connects the Upper Sycamore Trail, near its junction with Sycamore Canyon Road, to the Old Boney Trail. The most obvious fossils are shell impressions and remnants found in an exposed layer of sandstone about a tenth of a mile below the Old Boney Trail junction. Some of the shell impressions are palm-sized and larger.
The shells appear to be a type of cockle (Anadara devincta) that is an indicator of Miocene-age formations. (See the Oregon Sea Grant publication "Fossils You Can Find on Oregon Beaches.")  In this case, the fossil exposure appears to be in the Lower Topanga Formation, which is believed to have been formed in the middle to early Miocene, about 20 million years ago.
The shape, thickness and ribbing of this type of shell increases its strength and resistance to crushing — improving the shell's chances of remaining intact when buried in sediment, and during subsequent geologic processes. This may be one of the reasons it is a prevalent indicator fossil.
The photograph is from Sunday's run from Wendy Drive to Serrano Valley.