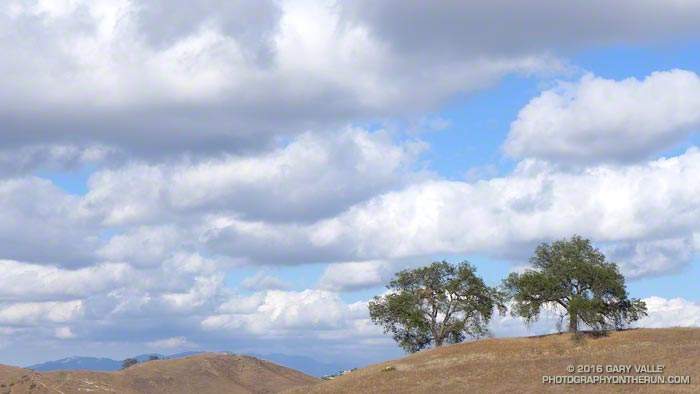 I was running in the hills along the western margin of the San Fernando Valley and reveling in the Autumn-like weather. The hills were parched, brown, and the soil dessicated. In 128 days it had not rained.
An area of low pressure was producing some clouds and even a little rain in some parts of Los Angeles County. The last time it had been this cool in the afternoon was in mid-June. The pleasant temperature was a welcome change from the 80s, 90s and 100s of Summer.
Precipitation from the 2015-16 Godzilla El Nino fell short of expectations, with Downtown Los Angeles only recording 65% of normal rainfall and the drought continuing into its fifth year. How long would we have to wait  until we received widespread rainfall?
At the moment the expectation is for ENSO Neutral conditions to prevail this Winter. Neutral conditions give forecasters little leverage on which to base their Winter outlook, but based on last year's Southern California precipitation forecasts, we didn't have much leverage then either.
With a warming planet, we appear to be in a new regime. Forecasts based on 1950-2000 analogs may no longer be applicable. As of September 15 the Climate Prediction Center's Precipitation Outlook for Southern California for December, January and February is the equivalent of flipping a three-sided coin.
We may just have to wait and see what the Winter brings.