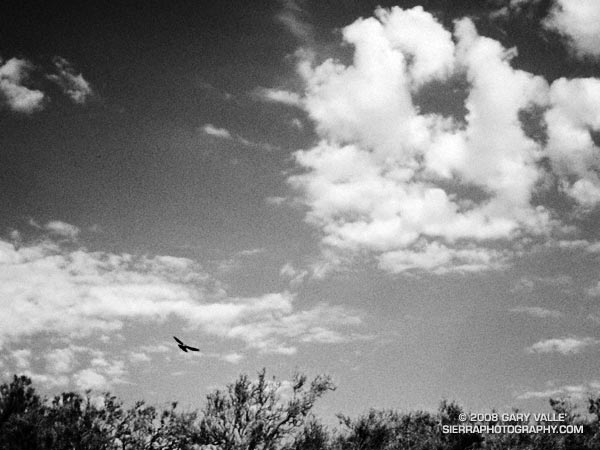 Ka-ree… Ka-ree… Ka-ree…
I heard the angry cries at least a quarter-mile away. The screams were incessant. Running along the dirt road, I emerged from a grove of oaks and turned west — running down a short hill and then up another. Cresting the rise, I paused to search the parched terrain.
The Winter rain season had been the driest on record, and Summer heat was now oppressive, abusing the animals and desiccating the chaparral. A few clouds cluttered the sky, but they would bring no rain. The cries continued.
Ka-ree… Ka-ree… Ka-ree…
The screams seemed to be coming from a group of rocks and oak trees near the campground. I left the road and slowly walked through the brush in the direction of the shrill shrieks. As I approached, the intensity and urgency of the screams increased. Intimidated, I stopped.
KA-REE… KA-REE… KA-REE…
There was not only fury in those cries, but a warning.
To my left, something stirred. Slowly I turned and looked down. For a moment I just stared. Rabbit lay face-down against a rock, twitching. Up in the oak tree, Hawk continued his irate cries.

KA-REE… KA-REE… KA-REE…

Suddenly, there was motion to my right, and Bobcat bolted from the brush. Hawk swooped in pursuit. His broad tail flared and wings twisted one direction and then another, as he followed the abrupt zigs and zags of Bobcat through the rocks, up the hill, and out of view.

KA-REE… KA-REE… Ka-ree… ka-ree…
Afterward: This encounter occurred during a run at Sage Ranch Park in July of 2002. I continued my run, and when I returned about 30-40 minutes later, the rabbit was gone. The photographs were taken during the encounter.