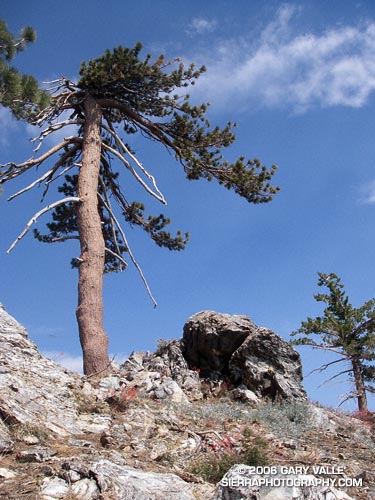 As I turned into the Vincent Gap parking lot and pulled to a stop, a few sprinkles of rain dotted my windshield. Opening the car door, I wanted to close it again. It was 7:30 in the morning and the temperature was already nearing 70 degrees. It shouldn't have been a surprise. The previous two days the National Weather Service office had issued an "excessive heat warning" for much of the Los Angeles area, including the lower elevations of the mountains.
Angeles Crest Highway was closed 2.6 miles west of Islip Saddle, so my plan was to do the Islip Saddle – South Fork – Mt. Baden-Powell loop from the Vincent Gap side. (Update May 21, 2009. Angeles Crest Highway has since been re-opened to Islip Saddle, and through to Wrightwood.) This difficult 23 mile loop, and some of its logistical issues, were described in the posting Complications.  The day was really too warm to be doing this route, but with a chance of thunderstorms in the forecast maybe some clouds would help keep temps in check. I'd run at least to Little Jimmy Spring. If it was too hot, I could always head back.
It didn't take long for the clouds that had spritzed my windshield to move off to the west. Except for a smoky haze from the Sawtooth Fire, mostly clear skies prevailed as I worked up the numerous switchbacks of Mt. Baden-Powell.  Near the summit of of the peak, I paused for a moment to admire the Wally Waldron Tree. At an elevation and in an environment similar to the 4000+ yr. old White Mountain Bristlecone Pines, this gnarled and weather-beaten Limber Pine is estimated to be 1500 years old. Clearly ancient, it has survived wind and weather too extreme to imagine. According to the Forest Service, some Limber Pines in this area may be as much as 2000 years old. Extended longevity doesn't appear to be limited to Limber and Lodgepole pines; a stunted White Fir near the summit also looks unusually old.
Down from the summit, and back on the Pacific Crest Trail, the running along the ridge was outstanding. Near Mt. Burnham, I stopped to take a few photographs, and watch a bumblebee working through a batch of Grinnell's Penstemon (Penstemon grinnellii). The throat of this particularly bulbous penstemon perfectly accommodates the bumblebee, and perhaps is an example of a flower adapting to a preferred pollinator. Continuing along the crest, between Throop Peak and Mt. Hawkins, red accents among the rocks marked patches of Bridge's Penstemon (Penstemon rostriflorus). From time to time, sparse clouds masked the sun, but as I descended toward Windy Gap, the temperature climbed inevitably higher.
One of the pros of doing the loop from Vincent Gap is that it is great to have fresh legs for the exceptional trail running down to Islip Saddle. Except for a short climb over the shoulder of Throop Peak, the running is generally downhill from the summit of Baden-Powell  (9399′), all the way to South Fork Campground (4560′). This is a distance of over 13 miles, with an elevation loss of nearly 5000′. The major con is having to do the lowest elevation segment of the loop, and the climb back to Vincent Gap (6565′), during a warmer time of the day.
Aside from the heat, another concern had been nagging at me. What if the trail was impassable? This wasn't heat induced paranoia. Last year, several sections of the South Fork trail were buried in small rock slides, and a couple of places where the Manzanita Trail crossed steep erosion gullies were in very bad shape. A Winter had passed, and who knew what recent thunderstorms had done to the trails?
Switchbacking down to Little Jimmy Spring, I had already decided to continue to Islip Saddle. In the battle of "do, or do not" I knew that once at Islip Saddle, "do" would win again. Maybe some clouds would help me on my way…
Epilogue: In sun-baked South Fork canyon, even the downhill was difficult, but the rock slide plagued trail was still passable. Some clouds provided temporary relief at South Fork Campground, but didn't last. The damage to the Manzanita Trail was worse than last year, but with care I was able to get through. In nearby Valyermo, midday temps reached over 100°F. Here's a Google Earth image and Google Earth KMZ file of a GPS trace of the route, and a Forest Service diagram of area trails that's at Vincent Gap.