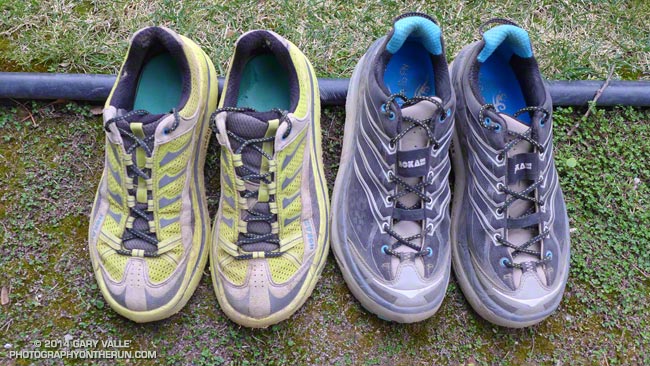 Hoka One One Mafate 2 (left) and Mafate 3
Update July 1, 2018. I did get 1000 miles out of that first pair of Mafate 2s. As things worked out, the Mafate 3s were superseded by the Rapa Nui 2. The Rapa Nui 2 was a far more nimble shoe than the Mafate 2/3. The Rapa Nui 2 fit well, ran well and generally had good cushioning. In my experience the outsole wasn't particularly durable. I had 10 pairs of Rapa Nui 2s, finally retiring my last pair in February 2018.
Since purchasing my first pair of Hoka One One Mafate 2s in October 2012 I have run in five pairs of Mafate 2s, and in December 2013 got my first pair of Mafate 3s:
Mafate 2 Pair #1 826 miles (Oct 2012)
Mafate 2 Pair #2 553 miles (Nov 2012)
Mafate 2 Pair #3 510 miles (Jan 2013)
Mafate 2 Pair #4 343 miles (Mar 2013)
Mafate 2 Pair #5 205 miles (Sep 2013)
Mafate 3 Pair #1 108 Miles (Dec 2013)
The Mafate 2s have been used in races ranging from 50K to 110K, for numerous trail runs in the mountains of Southern California, and for day to day training on local fire roads and trails.
Generally, the shoes have performed well and been durable. I've had no seam or sole blow-outs or other catastrophic failures. I've had no blisters. I've used the stock insole in all but one pair.
The Mafate 2 did have a problem that has been prevalent in just about every model of trail running shoe I've used — variation in cushioning. With 826 miles on them so far my first pair of Mafate 2s (title photo) have been phenomenal shoes. I may get a 1000 miles out of them. Even though Pair #5 of the Mafate 2s were purchased the most recently and have the least mileage, they have the worst cushioning. They were a decent pair of shoes — I ran the Kodiak 50M and Whiskey Flat Trail 50K in them — they just didn't last.
Mafate 2 Pair #4 was used for an extravaganza of mountain running which included runs in the Angeles High Country, Sierra and ascending San Gorgonio Mountain three times in four weeks. The rocky, rough trails took their toll on the foam midsole, wearing it ragged and tearing a chunk from one of the toes. I still use the pair from time to time.
Another higher mileage issue with my Mafate 2s was that the fabric lining of the heel collar would wear through. This would leave a rough spot on the collar that wasn't Achilles-friendly.
Enter the Mafate 3. It's been my experience that manufacturers often screw up the design of a successful shoe when a new "improved" version of the shoe is released. Especially when said company has recently been acquired by a larger organization. In my opinion the Montrail Vitesse, arguably one of the most popular trail running shoes at the time, was ruined when Columbia Sportswear acquired Montrail.
Happily, this does not appear to be the case with the update of the Mafate 2 and the acquisition of Hoka One One by Deckers Outdoor Corporation. From what I can tell the design changes in the Mafate 3 are spot on.
I got my first pair of Mafate 3s over the holidays. Out of the box the shoes seemed to be more comfortable, with slightly more padding on the uppers and a bit more attention to the comfort of the interior of the shoe.
The Mafate 3 outsole is more narrow in the forefoot than its predecessor and as a result the shoe is a bit more nimble. The heel counter and collar has been redesigned. It fits better, is more comfortable, and looks like it will be more durable. A handy heel pull tab was also added.
One change I didn't like is the Mafate 3s use Hoka's speed-lacing system. I don't have an inherent problem with speed-laces. I've used them successfully on a couple dozen pairs of the Salomon XT Wings I, II & III and other Salomon shoes. After one run I replaced the speed-lacing of the Mafate 3s with regular lacing. The substitute laces that came in the box were far too short, so I just used the laces from a retired pair of Mafate 2s. Much better!
The cushioning of my initial pair of Mafate 3s is very good, but only time, miles and multiple pairs will tell if the cushioning is more consistent than in the Mafate 2.
The Mafate 3 runs very well, and with the improvements made in the Mafate 3 it may very well be my favorite trail running shoe to date. I just ordered another pair!